A special exhibition, Wu School Painting Series:The Art of Tang Yin, is underway at the Suzhou Museum, in Suzhou, Jiangsu province until March 8.
Tang Yin, born in Suzhou, also known as Tang Bohu, was a famous painter of the Ming Dynasty (1368-1644). He was praised as one of the "four most famous painters of Wumen" (Wumen is the former name of Suzhou).
The exhibition displays Tang's nearly 50 paintings and calligraphies, mostly collected by museums in China and abroad, including the Metropolitan Museum of Art in New York, the Palace Museum, Shanghai Museum and Nanjing Museum.
The exhibits cover different subjects such as landscape, birds and flowers, figures, old trees, bamboo and stones, and in a variety of forms including scrolls, fans and albums.
It is the first time in China that Tang Yin's works, completed in different periods, have been showcased, reflecting the changes in his painting and calligraphy styles and showing his all-around artistic skills.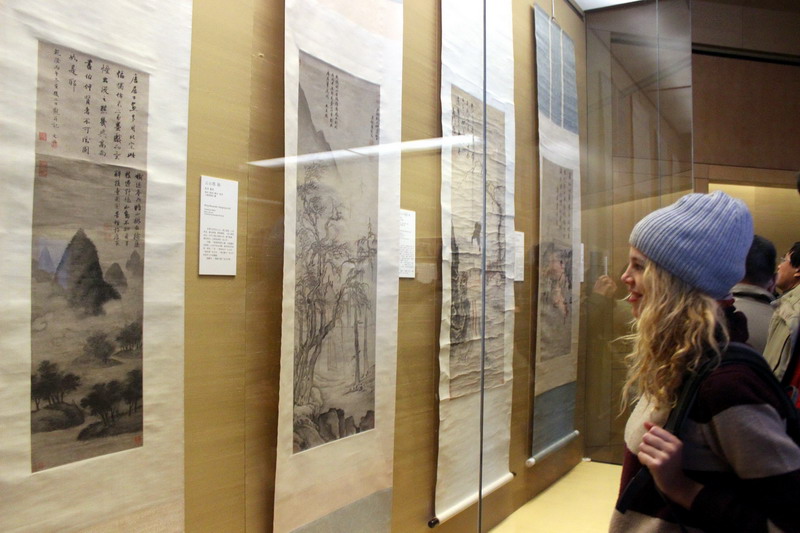 A visitor takes in a painting on display at the exhibition Wu School Painting Series: The Art of Tang Yin, at the Suzhou Museum, in Suzhou, Jiangsu province on Dec 9.[Photo by Wang Jiankang/asianewsphoto.com]