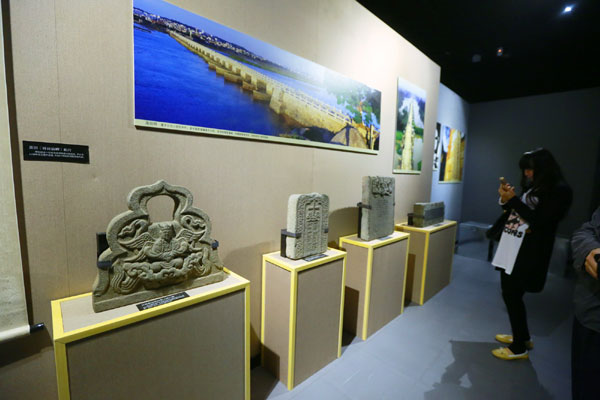 The Over the Sea show held in Quanzhou, Fujian province, presents more than 200 exhibits from nine cities on the ancient Maritime Silk Road.[Photo by Dai Hang/China Daily]
Nine cities of the Maritime Silk Road show off their glorious past in a touring show that's now in Fujian province, Sun Li reports from Quanzhou.
A show of treasures from the Maritime Silk Road, titled Over the Sea, is on display at the Maritime Museum in Quanzhou, Fujian province.
The exhibition, which will run through March 8, presents more than 200 exhibit items from museums in nine cities that once played an active role on the crucial trade and cultural communication route.
The Maritime Silk Road, which ran from China through Southeast Asia and the Indian Ocean to Europe, started about the time of the Qin Dynasty (221-206 BC) and reached its peak during the Song (960-1279) and Yuan (1271-1368) dynasties. Chinese navigator Zheng He and his fleets in the early Ming Dynasty (1368-1644) also participated in maritime activity on the route.
Nine sections, with each being dedicated to one city, are included in the display, focusing on various themes such as business and art exchanges.
Exhibits include not only a wide range of exported porcelain, silk pieces and other specialties from China, but articles such as jewelries and mirrors from Europe discovered in the country as well as products of ancient international contact, including some of the earliest Christian relics in China.
Wang Liming, deputy director of the maritime museum, says it is only right for Quanzhou to host the exhibition, since the city is known as the start of the Maritime Silk Road and was one of the largest ports in Asia during the Song and Yuan dynasties.
Different cultures met in Quanzhou when it served as an international port: One artifact reflecting such a multicultural past is a Christian stone carving that features an angel with four wings, Wang says.
"The winged angel resembling the image of a Buddha makes the carving exotic and look like a mixture of religions," she says, adding the piece, a top-grade national treasure, has normally been replaced by a replica when shown at other events.