Quanzhou Maritime Silk Road Art Festival kicks off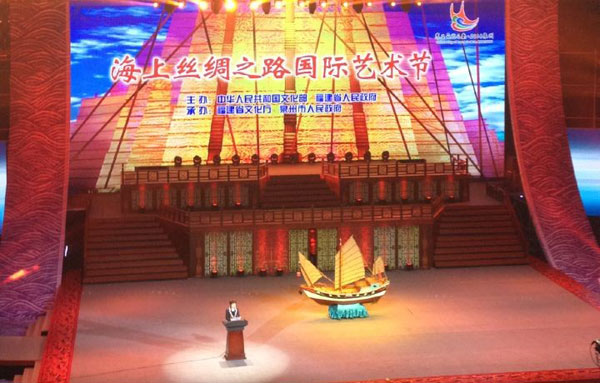 A view of the opening ceremony of the Maritime Silk Road Art Festival in Quanzhou of East China's Fujian province, Nov 26, 2014. [Photo by Hu Zhe/chinadaily.com.cn]
Hosted by the Ministry of Culture and Fujian provincial government, the opening ceremony of the Maritime Silk Road Art Festival (Culture City of East Asia 2014-Quanzhou Carnival) was held in Quanzhou on Nov 26, 2014.
Lin Wenqi, vice-chairman of the CPPCC National Committee, Ding Wei, vice minister of the Ministry of Culture and Li Hong, vice governor of Fujian province attended the ceremony, along with a group of distinguished diplomats who are now touring Quanzhou to explore the city's mesmerizing culture.
The event, co-hosted by Fujian Culture Bureau and Quanzhou municipal government, aims to build Quanzhou into a multicultural metropolis and also a pioneer city in the 21st Century Maritime Silk Road strategy.
The art festival will run till Dec 5, during which time assorted activities are scheduled. An academic seminar on the strategy of building the 21st Century Silk Road will be held, which itself consists of a series of cultural relics exhibitions. Also a cultural discovery tour to Quanzhou by diplomats is now underway, which is an innovative move to fully introduce the city to the outside world. Other highlights of the art festival include lighting shows, calligraphy exhibitions and debate competitions.
Renowned as the starting point of the ancient Maritime Silk Road, Quanzhou has long been one of the biggest tourist draws in the area. The city not only boasts a rich maritime history, but also a wide range of historical and cultural relics, which can be demonstrated through the fact that Quanzhou is among the first batch of 24 famous historic and cultural cities promulgated by the State Council.
Another thing worth noting is that along with South Korea's Gwangju and Japan's Yokohama, Quanzhou was designated as an "East Asia City of Culture" in 2013. Its potential in tourism and cultural heritage preservation has beenwidely recognized. The Maritime Silk Road Art Festival, which highlights the city's historical and cultural treasure, is a good opportunity to further enhance its influence in Asia and throughout the whole world.