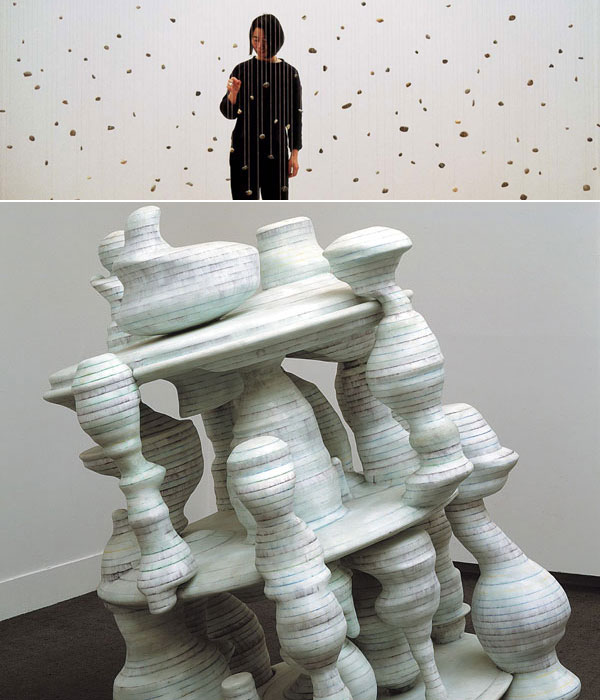 An installation (top) and a statue (above) are two of 44 artworks of the Art Space Germany show held at the Central Academy of Fine Arts Museum in Beijing.[Photo provided to China Daily]
Artists who relocated to Germany are getting a new platform for their work at the Central Academy of Fine Arts Museum in Beijing. The exhibition will run through Jan 5.
Art Space Germany is jointly presented by the Goethe Institute China and the museum. It features 15 stars from the contemporary art world.
The artists, including Tony Gragg, Armando and Candice Breitz, moved to Germany for art - reminiscent of the way artists in the previous century moved to Paris and New York. On display are 44 artworks covering video, sculpture, installation and paintings.
"We hold the exhibition because, in the globalization age, an open China needs diversified art elements and forms," says Wang Chunchen, director of curatorial research at the museum.
The exhibition is part of the museum's global exhibition season, which began in October and displayed arts from foreign countries such as Belgium, Switzerland and Denmark, says Wang.
The global exhibition season aims to explore answers to the question of how a country's culture is to be presented and to be made available to others.
"We gladly present the Art Space Germany in China, which focuses on the way in which foreign artists living in Germany influence the German art scene," says Peter Anders, director of the Goethe Institute China.
The exhibition has added artworks by Chinese artists living in Germany to emphasize the relevance of the two countries in entering into culture dialogue, according to Anders.