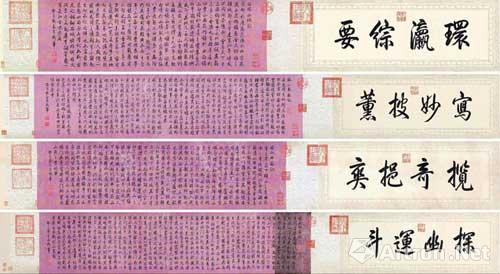 The hand scroll by Emperor Qianlong was sold at Poly's Autumn Auction, Dec 2, 2014. [Photo/Artron.net]
A set of hand scrolls, White Dagoba Hill, written by Emperor Qianlong of the Qing Dynasty sold for 116 million yuan ($18.9 million), with commission included at a Poly's Autumn Auction on the night of Dec 2. It fetches a record high among Chinese painting and calligraphy auctions around the world this year.
The scroll is also the only item that sold for over 100 million yuan (nearly $16.3 million)in the Chinese mainland's auction market this year and the highest price among Emperor Qianlong's works.
The White Dagoba Hill has five scrolls, including a general depiction of White Dagoba Hill, and other four scrolls that portray the White Dagoba Hill's east, west, north and south sides. Four scrolls were auctioned this time, except the White Dagoba Hill's East Side which is still nowhere to be found.
It is said that the writings were created after Emperor Qianlong ascended the White Dagoba Hill in Beijing in 1773 and was amazed by the beautiful scenery. The writings can still be seen in Beihai Park now.
The scroll was previously kept at Yong'an Temple at White Dagoba Hill and then went to private collectors. Some scrolls had once gone abroad, so having the four scrolls together this time made it even more precious.
Among existing writings by Emperor Qianlong, sets of scrolls created under one theme are rare and this set of scrolls is especially important among Qianlong's calligraphy pieces.