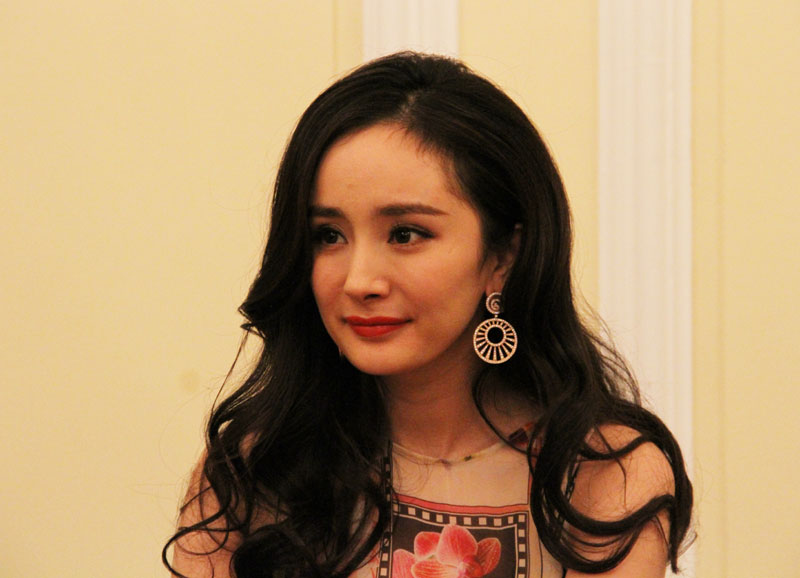 Chinese actress Yang Mi is the good will ambassador of this year's China International Film Festival London. [Photo/CRIENGLISH.com]
The awards ceremony for the China International Film Festival in London has been held over the weekend, with a number of Chinese stars attending.
The China International Film Festival in London began last year.
It's designed to try to promote Chinese films among a British audience, and is supported by the Chinese government and the British Film Institute.
Around 20 awards were handed out at this year's ceremony, among which the best overseas influence award has been presented to Yang Mi, who is also the film festival's good will ambassador.
"The film festival is a very good opportunity for people from the Chinese film industry to promote and present their works to an overseas audience. I hope there will more occasions like this, and I would be very happy to get involved."
As part of her schedule in London, the Chinese actress is also due to meet with her fans in England, along-side a number of her British contemporaries.
"According to plan, we will talk about films and cinema, but I am sure it will end up being a casual chat about personal experiences and a sharing of common interests as I am in the same age ranges as many of my fans."
Aside from the awards ceremony, this year's film festival also featured an industry forum on Sino-British cooperation in film production.
Chinese actor Nick Cheung says collaboration with people in the British film industry is an exciting opportunity.
"I will be glad to see more collaboration involving the Chinese and western film industries. I wish it could be a mainstream phenomenon, as it will help people from both countries better understand each other."
Nick Cheung won the award for the Best Leading Role for his performance in the film "Unbeatable".
In a screening session that follows the award ceremony, recently-released Chinese films including "Dearest" and "Golden Era" will be shown in London.
Other Chinese stars gracing the red carpet included rising mainland actress Liang Jing, TV host, singer and actor Du Haitao and director Peter Chan.