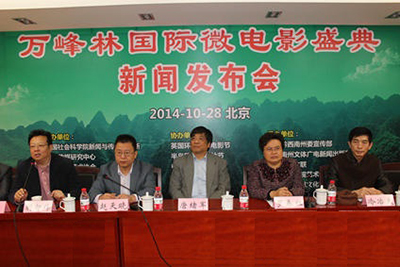 Guests attend the opening ceremony of the first Wanfenglin Micro Film Festival in Beijing on Oct 28, 2014. [Photo/Agencies]
The first Wanfenglin Micro Film Festival opened in Beijing on Oct 28.
The competition's genres include documentary, drama and music video, under the theme of Guizhou province's Wanfenglin Canyon, Xinhua News Agency reports.
Winners will take a total of 300,000 yuan ($49,000) and represent China at film festivals around the world next year. The awards ceremony will be staged in Guizhou's Xingyi in February, Xinhua says.
"This event will offer a platform for micro films with strong Chinese characteristics," Xinhua quoted documentary director Leng Yefu as saying at the inauguration ceremony.
"It will raise international awareness of our country's micro film industry."