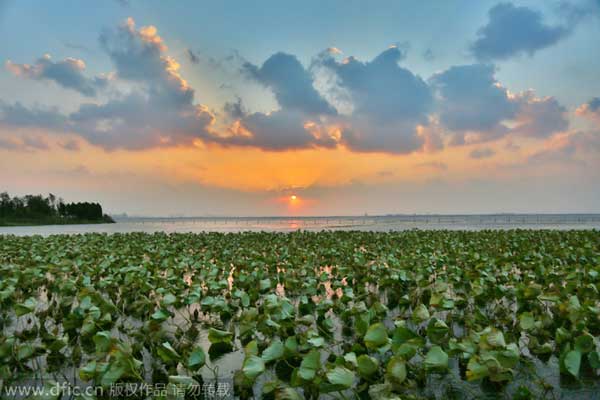 View of the Yangcheng Lake in Kunshan, Suzhou city, east China's Jiangsu province, October 12, 2014.[Photo/IC]
"When the autumn wind starts, the legs of crabs itch," as the famous Chinese saying goes.
Now is the season to harvest nature's culinary treasure, as the fertile, protected lakes around Shanghai bear forth the ultimate in savory Chinese cuisine - the hairy crab.
Yangcheng Lake in neighboring Jiangsu province for generations has been the destination for crab connoisseurs from near and far who will travel to experience this very seasonal crab that matures only two to three months every year.
The water quality of the Yangcheng Lake is good and makes the hairy crab meat clean and slightly sweet.
The crab season officially starts in the ninth lunar month for female crab and the 10th for male crab. Each crab weighs between 180 and 250 grams.
There are three important characteristics when it comes to identifying the famous Yangcheng Lake hairy crabs. First and foremost, only the crabs from the Yangtze River Delta have a dark bluish-green shell.
Second is the plump hairy legs, indicating the crabs are healthy. The last and perhaps most important indicator is a white and clean crab bottom, which shows that the crabs have grown up in a clean environment.
The purest way to cook the hairy crab is to steam it, which preserves its original flavor.
The crab must be upside down to get the most flavor and juices trapped in the upper shell.