Delicacies for autumn feasts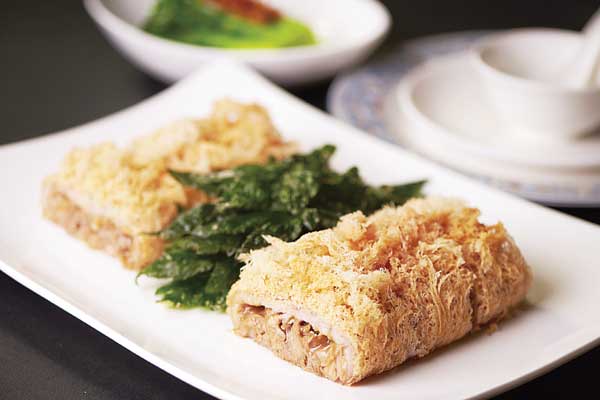 Chaoshan specialty: Crispy duck wrapped in mashed taro. [Photo provided to Shanghai Star]
Sudden showers, falling leaves and a cooling city again awaken appetites dulled by the heat of summer. It's autumn, and time to celebrate good food and good company with some delicious seasonal specialties. Pauline D. Loh and Xu Junqian ferret out the best dishes for the occasion.
Lotus Root
The Chinese poet Han Yu (768-824) sang its praises and described it as "sweet as honey, icy as frost, a slice in the mouth heals all sickness". The Qing emperor Qianlong (1711-99) compared it to "the snowy white, slender curved arm of a beautiful woman".
What they were extolling, of course, is the humble lotus root, often pointed out as a moral example for "rising above the mud it grows in, untainted and white". It is most abundantly harvested in autumn, and has naturally become part of the feast for the Mid-Autumn Festival.
The most convincing reason for its popularity is the culinary tradition of "eating local, eating seasonal", born out of the belief that food in season is the best gift from nature. In the case of the lotus root, traditional Chinese medicine claims that the aquatic root vegetable is best for relieving summer heat and autumn dryness.
While the lotus is widely enjoyed in soups, in sweet and sour stir-fries, cooked with pork ribs, and other countless ways, the dish most popular on tables right around the country about this time is an appetizer, or cold dish: Candied lotus root stuffed with slow-cooked glutinous rice, and topped with osmanthus jam.
This was once native to the east China area, where sweet-toothed diners like something sweet at the beginning of their meal. These days, the dish is popular all over the country, attracting loyal followings with the shiny luster of the osmanthus syrup, its appealing fragrance, and above all, the soft and sticky lotus root, cooked to a melt-in-the-mouth mealy texture that contrasts with its usual crispness.
Places offering the dish are many, ranging from streetside stalls to fine dining Chinese restaurants, not to mention home-made recipes available online.
The most delicious we have eaten, however, comes from Chef David Du's kitchen at Xindalu restaurant, at the Hyatt on the Bund Hotel.
The dish is heated up in the steamer after the order is placed and so the syrup and Osmanthus honey is melting again on the soft, sticky lotus root, making it a heart-warming dish during this unexpectedly early autumn.