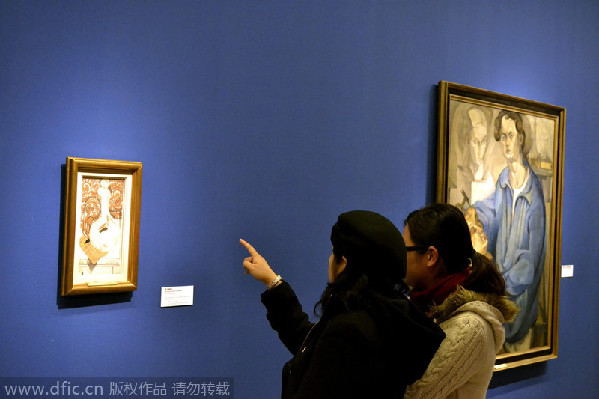 Visitors look at artwork by Mexican artist Diego Rivera (1886-1957) during the exhibition "Diego Rivera: Pride of Mexico" at the National Art Museum of China in Beijing, October 28, 2014. [Photo/IC]
The exhibition Diego Rivera: Pride of Mexico debuted in Beijing recently, featuring 34 works by the noted Mexican muralist Diego Rivera. From landscape paintings made in 1904 to his portraits in 1956, these works were created using different techniques such as painting, aquarelle, collage, pencil, coal and ink drawings.
Diego Rivera was considered as representative of Mexican muralists and was well-known for his frescoes that helped establish the Mexican Mural Movement. His last wife, Frida Kahlo, also enjoyed great fame as a painter in Mexico.
The art pieces on show include landscapes, still life, portraits, nudes and scenes of daily life, which represent different art forms such as naturalism, cubism and indigenous daily life scenes.
The show also highlights some works painted during Rivera's trip to Europe, a time when the painter destroyed most of his creations.
This exhibition is presented for the first time in Asia as part of a cultural exchange program promoted by the Mexican Government.
Now let us enjoy some of his works from the exhibition.
Related video: Asian debut of Rivera's artworks