A feast of seafood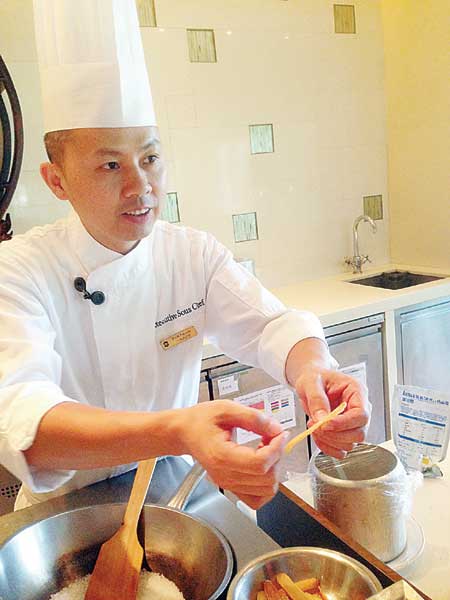 EAST WEST: Sandworms are given special treatment by Luo.[Photo by Pauline D.Loh/Shanghai Star]
When he was working in the glamorous enclave of the Macao Special Administrative Region, he had ingredients from all over the world flown in to his kitchen.
But, Macao was a grueling 10-hour bus journey away, with no direct flight connections. Fay Luo decided to return home, and now as the assistant executive chef of the Shangri-La Beihai, he shops at the fresh markets where the seafood gets unloaded from boats every morning.
As a Western-trained chef, Luo enjoys using non-Asian techniques on totally Asian ingredients. Instead of the chocolates and fruits that greet important visitors to the hotel, Luo send them crispy sand worms and white bait fillets in conch shells.
The sandworms are salt-roasted, and as they cool, they become really brittle and are addictive snacks. Luo took us to the market one morning and proudly showed off nature's bounty to Beihai in the form of the huge variety of seafood.
He sniffs a little at the river crabs currently in season, and picks up several large blue swimmers for lunch instead. He also haggles over some giant mantis prawns, which totally overshadow the index finger-sized specimens we get back in Beijing. Back at the Shangri-La, Chef Luo first shows us the secret of roasting sandworms into a savory crisp.
Then we sit down to sumptuous seafood lunch while he regales us with stories of seafood. The blue swimmers are fat and full, with their snow-white flesh flaking off easily in large chunks.
They need nothing but a light dip in soy sauce and cut red chili. Mantis prawns are odd creatures, and you have to look rather hard to tell which end is which. In Beihai, they grow to be giants the length of your palm, and their flesh is firm and sweet as well.
It is very clear that Luo is proud of his hometown, and even prouder that he can now show off his culinary skills with ingredients he has known since childhood. We need more chefs like him.