Taipei street food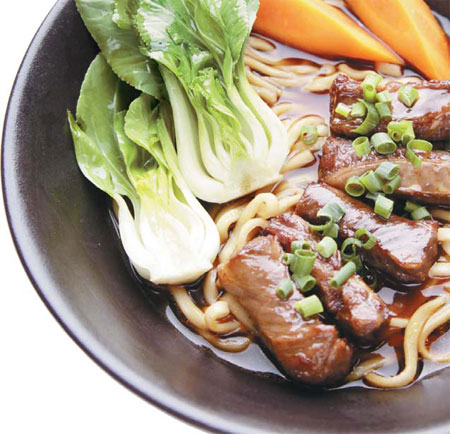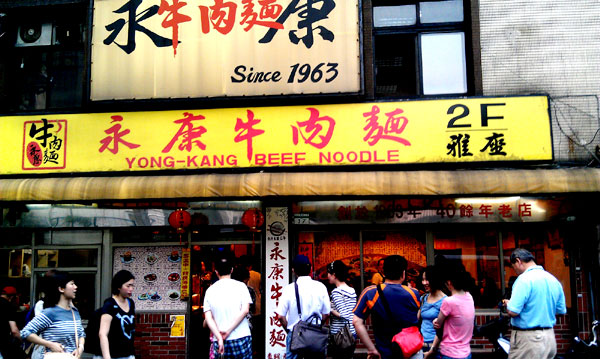 The 60-year-old Yongkang Beef Noodles is one of the most popular eateries in Taipei.
Night markets are p
art
of the culinary culture of Taipei and other major cities of Taiwan, but there are also little enclaves that offer equally delicious, casual dining. Hilton Yip explores Yongkang Street.
It's no secret that Taiwan is a fine place for food enthusiasts, with its vast array of xiaochi (small eats) delicacies, local Minnan specialties and a splendid variety of dishes from all across China.
The island's cities feature lively night markets, and it is impossible to walk into any neighborhood and not see restaurants, food stalls, cafes and drink stores.
If you're in Taipei and you want to enjoy great food in one place, Yongkang Street should be a definite stop on your itinerary.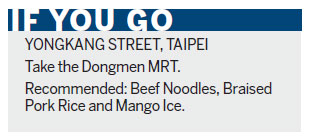 In this historic part of Taipei, you can try the finest of several Taiwan foods and desserts in its lanes and alleys.
First, start with beef noodle. These are noodles cooked with stewed or braised beef and vegetables in a soup broth and a signature dish in Taiwan's food landscape.
The locals generally agree that the best can be found along Yongkang Street.
Yongkang Beef Noodles was established in 1953, which makes it a grand old dame of 60 this year. It is well known for its red braised beef noodle, and the flavor is so strong that you can smell it as soon as you line up outside the restaurant.
The store's original owner was from Sichuan, which accounts for the noodles being spicier than normal. But for those who prefer a lighter taste, there is also the lightly braised option which is not spicy and features a clear broth, as opposed to the fiery broth of the red braised noodles.
Apart from the standard orders, you can also add beef tendon to the noodles.