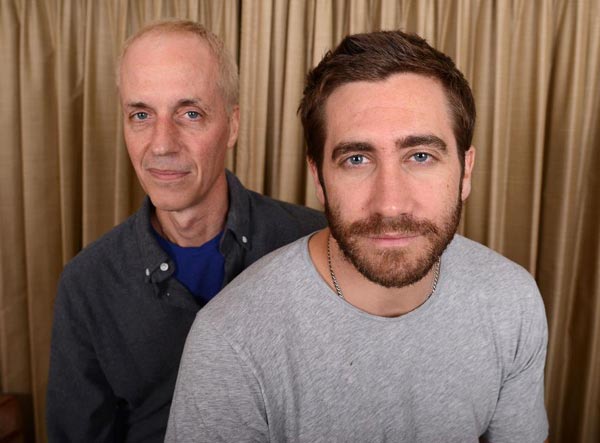 Director Dan Gilroy (L) and actor Jake Gyllenhaal are photographed during the LA Junket for the film "Nightcrawler" in Los Angeles October 11, 2014. [Photo/Agencies]
LOS ANGELES -- Hollywood actor Jake Gyllenhaal's new film "Nightcrawler" beat the horror film "Ouija", taking the first place at the North American box office race this weekend.
"Nightcrawler" which imagines a dark world of sketchy freelance video crew, racing after news on the deserted streets of nighttime Los Angeles, debuted at 2,766 locations with $10.91 million in estimated ticket sales in the US and Canada. That was just an eyelash above "Ouija" which was on track to sell 10.9 million dollars in tickets.
"Nightcrawler" received a 94-percent recommendation on RottenTomatoes. The first night movie goers gave it a "B-" rating. The film attracted largely older, male crowds: an estimated 66 percent of moviegoers were older than 25. Men made up 56 percent of the audience.
Brad Pitt's World War II film "Fury" was third with an estimated $9.1 million in sales in its third week of exhibition. It has grossed over $60.4 million since released.
With Halloween falling on a Friday, total box-office of the Top 12 earned an estimated $81.9, which makes it one of the lowest weekends of the year.
Rounding out the top 10 films this week, as reported by the studios and gathered by Rentrak, were "Gone Girl" ($8.8 million), "The Book of Life" ($8.3 million), "John Wick" ($8.1 million), "St. Vincent" ($7.8 million), "Alexander and the Terrible, Horrible, No Good Very Bad Day" ($6.5 million), "The Judge" ($3.4 million) and "Dracula Untold" ($2.9 million).