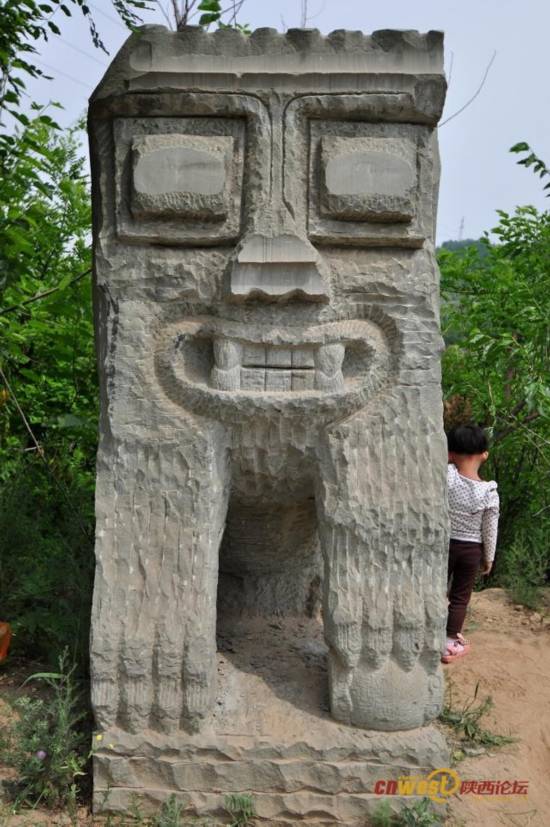 A cute stone lion in Suide county [Photo by "Da Shu"/Cnwest]
A series of photos of stone lions in Suide county, Shaanxi province, has prompted a flood of compliments among netizens in China. Posted by an Internet user called "Da Shu (Big Tree)" on Cnwest BBS,the pictures have shown a diversified modeling of cute stone lions. One of sculptures is a square-head lion with big eyes that happens to resemble the classic image of the cartoon character "SpongeBob SquarePants", drawing praise and laughs from the public.
Suide county is a place where stone lions are worshiped. With the advantage of rich natural resources of high-quality stones and the advancement of carving technology, Suide locals have inherited the ancient stone carving art and advanced it into a new level. Therefore Suide has earned the reputation of "hometown of stone lions" and "kingdom of stone lions".
Suide stone lions are carved in a natural and casual way, with no limit on the imagination. The lions are vividly captured and full of life and fun. Some of them look like young children with a naïve and naughty nature. Some look like kind loving mothers with peace and softness in their hearts. Some look like strong warriors, energetic and majestic. All these sculptures represent the pure charm of these lively creatures.