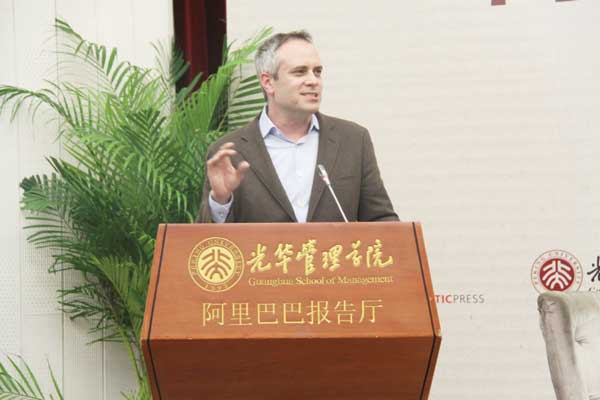 American author Brad Stone talks to Internet experts and students at Peking University about China's Internet industry and his experience of writing a book on Amazon. [Photo provided to China Daily]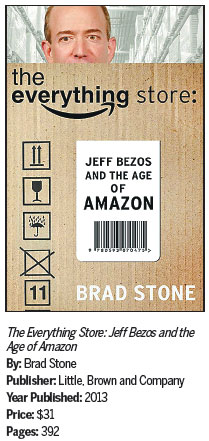 The dim view of China's capacity for innovation is a thing of the past, US high-tech writer Brad Stone says. Chen Yingqun reports.
The widely held belief that Chinese technology companies lack innovation may no longer be true, says Brad Stone, a technology journalist in the United States.
"People in the West once thought Chinese technology companies were not doing anything particularly innovative," he says. "I've been struck on this trip by how that is really not the case anymore."
Stone recently met with Internet experts and students at Peking University to chat about the Chinese Internet industry and his experience writing the book The Everything Store: Jeff Bezos and the Age of Amazon, about the Internet company's founder.
Stone has written about technology for 15 years. He first worked for the former Newsweek magazine, and then The New York Times and is now a senior writer for Bloomberg Businessweek.
Stone says he visits China every couple of years to learn about the latest Internet trends. On his most recent trip, he researched the Xiaomi Group, a 4-year-old Chinese company that the US business magazine Fast Company recently ranked as No 3 in the top 50 most innovative companies in the world.
Xiaomi, which makes smartphones, has no physical retail outlets, but its online sales reached $10 billion over the past three years.
"Xiaomi to me is truly an innovative and unique Chinese Internet company," Stone says. "It basically rethought all the ways that you might manufacture a phone and then market a phone. They don't sell in stores and they don't advertise on television. It is very representative of the Chinese technology industry.
"At one point, maybe it was derivative of what is happening in the West. In some ways, when you look at Alibaba and Tencent, they are leading the way. There are many Internet companies around the world that are watching China closely right now to see what is happening here and then bring it to the West."