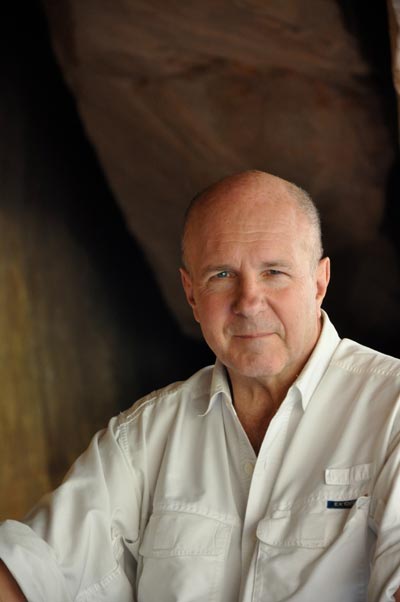 Simon Winchester says he is struck by the enormous changes that China has witnessed in the recent years. Setsuko Winchester / China Daily
China could one day have as great and important a presence in the world's oceans as the United States does today, says Simon Winchester, a veteran British writer, journalist and broadcaster.
"No one, least of all the United States, can doubt the growing and very visible importance of China in all of the western Pacific," he says.
Winchester, 70, who has written 26 books, including several New York Times best-sellers, says it is a matter of geographic logic that the world's most populous country should wield influence west of the international dateline.
"There are some who cannot imagine this influence ever extending to the ocean's east to the coast of Canada and Chile, Peru and Panama, and of course to the littoral of the US itself. But I can entirely imagine this, though perhaps not in my lifetime."
Winchester is now working on another project, a trilogy on the Pacific Ocean.
"My current book will necessarily involve China, because of her growing interest in and influence on the Pacific."
He is unsure what the implications for the geopolitical balance of power may be or may be perceived to be, he says, adding that it depends largely on what China's ambitions are.
"Certainly Chinese history would suggest a peaceful intent, and I would hope most nations would accept and welcome such an approach. To have other aims would be most troublesome," he says.