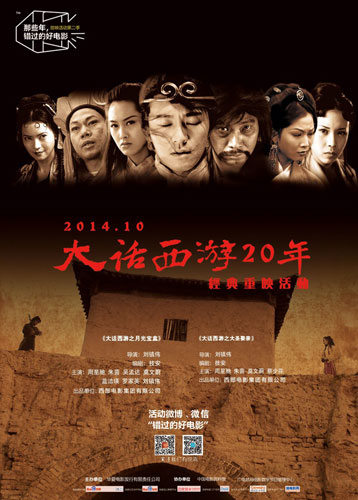 A poster of the film "A Chinese Odyssey" [Photo/Agencies]
A movie company rereleased Stephen Chow's 20-year-old cult classic comedy "A Chinese Odyssey" (1994), hoping to cash in on a generation's nostalgia.
On Thursday, China.org.cn learned that "A Chinese Odyssey Part One - Pandora's Box" has grossed 8.7 million yuan ($1.4 million) and "A Chinese Odyssey Part Two - Cinderella" has grossed 11.6 million yuan ($1.88 million) on the Chinese market since Oct 24, a disappointing box office performance compared to 3D rerelease of "Titanic," which grossed astronomical nearly 1 billion yuan ($162 million) in China in 2012.
But the disappointing returns are not due to the quality of the films, but rather are due to limited showing schedules, release in a smaller number of theaters and low-key promotion. According to statistics compiled by Mtime.com, the two parts of the movie, loosely adapted from China's ancient classic "Journey to the West," are only being shown in less than 5 percent of theaters nationwide, and most screenings of the film are not scheduled during prime time.
But China.org.cn has found that audiences have responded positively to the film; the seats in a theater in Beijing on a Monday morning in a normal week were almost full. Statistics have shown that the average occupancy rate at a screening of one of the films is more than 50 percent, higher than that of many other films currently in theaters.
"A Chinese Odyssey," directed by Jeffrey Lau and starring Stephen Chow, Ng Man Tat, Karen Mok and Athena Chu, was a co-production by Stephen Chow's own Hong Kong movie company (now bankrupted) and the mainland's Xi'an Film Studios (now known as West Movie Group).
The films are now regarded as a timeless classic since a new generation of young people has found resonance with the movie's characters and its story of lost love. Many lines from the movie became catchy phrases on the Internet later in the 2000s, defining new generations' vocabulary.