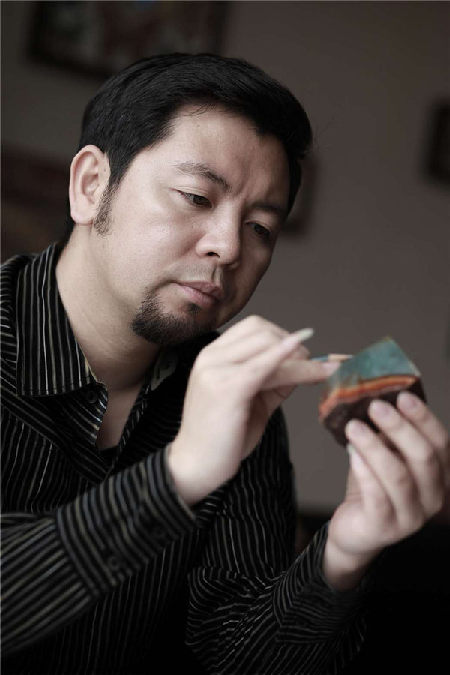 Chinese jade artist Wang Junyi says jade carving requires extreme patience. Photos provided to China Daily
Wang Junyi is sharing his artwork to show that the greenstone is more than just a mark of nobility. Deng Zhangyu reports.
The history of jade sculpture in China dates back several thousand years, and it has always been seen as an exquisite craftsmanship serving royal families and the wealthy. But Wang Junyi wants to show that the greenstone can also serve the public.
On Oct 21, Wang unveiled his plan in Beijing for a yearlong world tour of his works. Starting next month, his solo show of jade sculptures will begin visits to more than 10 cities including Paris and Venice. The Louvre will be the first stop.
Instead of carving from a single piece of jade, Wang incorporates different types of metals into his works, such as gold, silver and titanium alloy.
The Nile, one of 31 works that will be on display at the Louvre, resembles the museum with its pyramid-shape. The tiny jade sculpture was made in 2007.
Transforming into Butterfly is an installation of a lifelike butterfly, held together by metal threads. "Jade is a special medium for me to create works, just as other artists use marble, bronze or porcelain," says Wang, 40.
Wu Weishan, director of the National Art Museum of China, says Wang's work is a combination of traditional craftsmanship, modern design and installation.
Wang's jade works focus on three subjects: Buddha, animals and flowers. The artist said his international show will feature more animals and flowers so "foreign audiences can easily understand" his pieces.
Jade has long enjoyed popularity in Asia. But in Europe, few understand the culture. Wang is confident that his jade installations will be accepted in other countries, as art is a universal language.