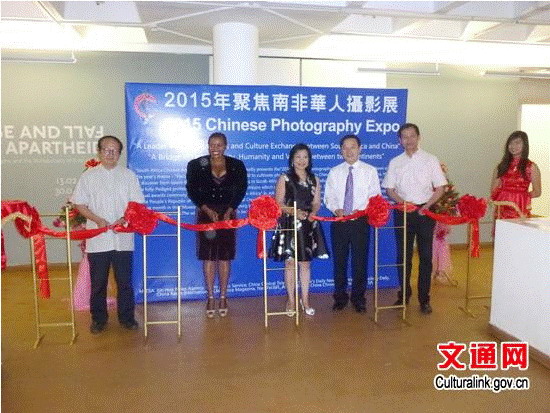 Officials cut the ribbon at the exhibition opening.[Photo/Culturalink.gov.cn]
Initiated and sponsored by the Sino-South African Arts and Culture Association, 2015 Chinese Photography Expo debuted on Jan 17 at the African Museum in Johannesburg, the capital of South Africa. Twenty-two remarkable photographs portraying lives in South Africa by overseas Chinese were unveiled. Zheng Wen, cultural attaché to the Chinese Embassy in South Africa, and Yang Peidong, Chinese consul general in Johannesburg, delivered speeches and cut the ribbon at the expo's opening.
At the show, visitors can get an overall picture of the amazing country through these works of art. Selected photographs can be classified by themes: Crape Myrtles in South Africa, Lives at the Seaside, Spectacular Scenery in South Africa, Cultural Scenery in South Africa and News from South Africa.
2015 marks the Chinese Year in South Africa. Huang Jingjing, president of the Sino-South African Arts and Culture Association, said that by holding such an grand expo, the organizer hopes that Chinese people will know more about friendly South Africa on the one hand; on the other, that the exhibition serves as a platform for artists and photographers from various countries to communicate with one another.
Located in the center of Johannesburg, the African Museum reflects the cultural and social development of South Africa. Established in 1933, its original purpose was to protect the intangible cultural heritage in Africa. Today, as a branch of the South African government, it is open for free.