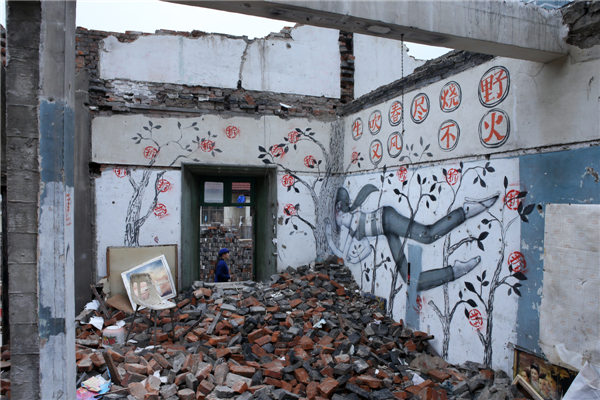 Drawings by two artists, one Chinese and one French, on an abandonded wall in Shanghai's Shikumen area were destroyed. Photos by Yong Kai and Zhang Xinyan/For China Daily
The destruction of drawings on the walls of an abandoned community in Shanghai that had become popular with residents brought an angry reaction.
Featuring Chinese people and expressing affection for old houses, the 10-plus doodles were produced around Jan 20 by two artists-one from France and one from Shanghai-on the walls of a deserted community in the city's central Jing'an district.
The drawings soon attracted lots of visitors. Some even had their wedding photos taken with the graffiti as a background.
While some people were calling for the preservation of the buildings in order to save the drawings, both were abruptly destroyed by local administrative departments "out of safety concerns".
An anonymous official of Jing'an district told Shanghai Morning Post that the walls were being demolished and people should not visit them.
"There are a lot more ways for people to enjoy folk art in Jing'an district that are also free of charge and quite good," the official was quoted as saying.