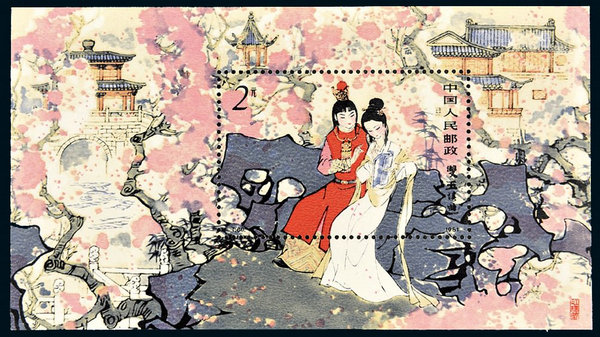 One of the stamps featuring Dream of the Red Chamber. [Photo/ english.cguardian.com]
Dream of the Red Chamber, a masterpiece of Chinese literature attributed to Cao Xueqin of the Qing Dynasty (1644-1911), is considered the peak of Chinese fiction. The novel provides a detailed, episodic record of two branches of the wealthy and aristocratic Jia clan whose ancestors were given imperial titles. As the novel begins, the clan is the wealthiest family with high prestige in the city but eventually falls into disfavor with the emperor and their mansions are confiscated.
To promote classic Chinese literature, a set of 12 stamps concerning Dream of the Red Chamber was issued on Nov. 20, 1981. The figures are based on original drawings by Chinese painter Liu Danzhai. The two figures are Jia Baoyu and Lin Daiyu, the hero and heroine of the novel.