A day to say 'Cheese!'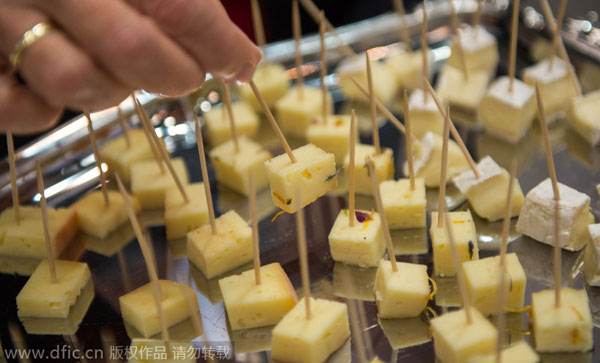 [Photo/IC]
I don't know where you were on Jan 20, but I can tell you where I was: at a Jenny Lou's market in Beijing, with my nose pressed firmly against the bright glass of the cheese cooler.
I couldn't smell a thing, really, but I inhaled mightily with the same pleasure I'd feel later when the chunk of Camembert before my eyes was safely home.
Jan 20, in case you don't know, is National Cheese Day in my home country, the USA. To be honest, I lived there for more than 50 years without knowing such a day existed.
But now that I'm in China, where cheese is not everyday fare, I seek out opportunities to go a little cheese crazy.
It all started at this very same cheese counter about five years ago. I had been in China for a few weeks, feeling quite scornful of some fellow foreigners who seemed to fetch every meal at a Subway sandwich shop or the Ikea buffet or from the Western-food packed grocery markets in expat districts. Why did these sad devils just stay home, I wondered?
I was such a reverse snob, in fact, that I didn't set foot in such a market for the first three months I lived in China. Dan-dan noodles? Mapu tofu? Yunnan-style hotpot? Bring 'em on, baby!
Then one morning, I sat up in bed, wide-awake with an urgent craving.
I had to have cheese. Real cheese. Right now.