Lantang-Bobu started as two separate shoe companies, selling footwear to Shanghai's well-heeled. Today they are one of the city's best known shoe companies. Wang Ying looks back at the history of the brand.
Lantang-Bobu is a shoe company that began as two different labels, each with a history tracing back to the 1940s. Lantang specialized in woman's shoes, and Bobu was an expert in men's footwear.
Lantang 蓝棠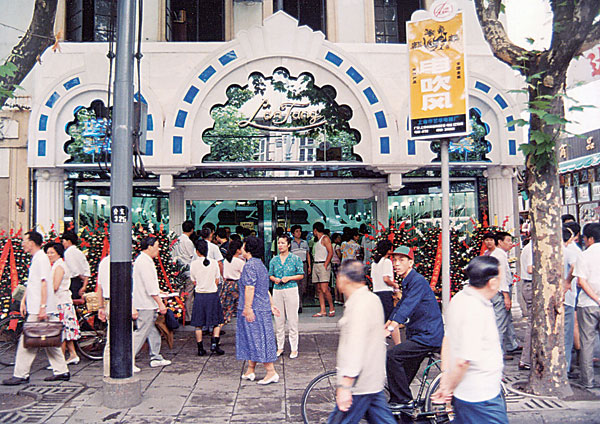 In 1947, shoemaker apprentices Zhang Lyu'an and Sun Changsong rented a small counter on Nanjing Road to sell women's shoes.
The counter initially had 36 pairs of shoes and quickly attracted many customers, thanks to the high quality of shoes and the efficient management of Zhang. Their success encouraged them, and they teamed up with another two apprentices to open a second shop on the same road.
Business flourished, and the two counters sold between 60 and 70 pairs of shoes every day.
Most of the customers were high-class ladies and foreigners, who only cared about the quality of the shoes and ignored the price tag. The four men made a huge profit.
In 1948, their lease ended and the first counter was relocated to No 1195 West Nanjing Road.
They put all their earnings 135 taels of gold, into buying the new shop. They spared no expense in outfitting the new outlet, the woolen carpet on the floor alone was worth 16 taels of gold.
They named the store Lantang because its pronunciation is similar to La Donna, the store where they leased their first counter and started their shoe business.
The leather shoe store officially opened on November 25, 1948, and its workshop was located in Yangjing in the east side of the Huangpu River.
Based on foreign shoemakers' samples, with some adjustments, Lantang specialized in making shoes for Chinese women. Its shoes won great popularity among its high-end customers, including movie stars, social celebrities and wives of party leaders.
But the unstable economic and social environment finally drove the store to the brink of bankruptcy, and the shop owner had to sell it after 1949.
The brand was revived when it moved to No 1169 West Nanjing Road in 1957. Its shoes were exported to more than 10 countires and regions including the UK, the US, Russia, Hong Kong and Macao.