Crocs step into yearlong style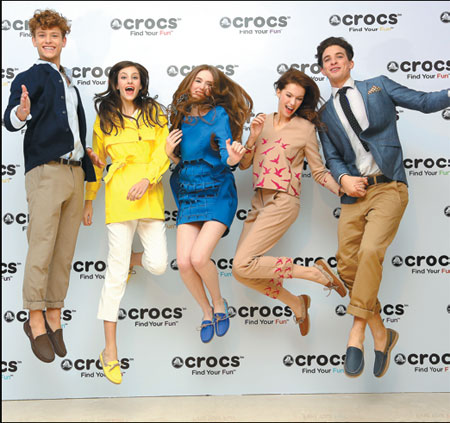 Crocs launches its new Wrap Colorlite to expand its comfort shoes to autumn and winter. Photos provided to China Daily
Clogs might not be the most fashion-conscious choice in summer, but who would forego the irresistible comfort of these shoes on a seaside vacation or an evening stroll?
Traditionally known as a summer brand, the Crocs label is best-known for its plastic version of the classic clogs. It is now trying to become a four-season brand with new lines that will expand its comfort shoes to autumn and winter.
The brand revealed its fall/winter 2014 collection at a show in Shanghai last month, displaying new material made with cutting-edge technology.
The label has launched its new Wrap Colorlite, one-piece handmade shoes. The new style is made of Colorlite, a new material that looks and feels like leather.
"We will remain a very colorful and fun brand. But the customers, with this new material, will be able to use the brand 12 months a year, 52 weeks a year," says Florent Bailly, vice-president of Crocs Asia.
The company also launched Duet Busy Day flats, Adela Foldover boots and Allcast Duck boots that combine comfort with exuberant colors.