Chinese designer teams with Swarovski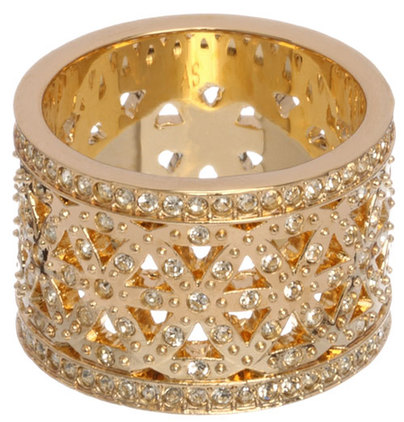 Flower of Love ring in champagne gold. Photos provided to China Daily
It is said to be the original pattern of creation, and now designer Ye Mingzi teams up with Swarovski crystals to bring this ancient geometric form to life in a range of delicate jewelry. Sun Yuanqing reports.
Few people can compete with Ye Mingzi's glamorous life.
The granddaughter of Ye Jianying (1897-1986), a founder of the People's Liberation Army, Ye Mingzi studied at London's Central Saint Martins College of Arts and Design. She is best-known for designing evening and wedding dresses for Chinese celebrities and very rich people.
Now, inspired by the power of the Flower of Life, a mysterious ancient geometric form of overlapping circles, Ye is embracing a wider audience with a new collaboration with Swarovski.
The outdoor show Flower of Life, planned by Ye over two years, opened in the Imperial Ancestral Hall in Beijing last month, featuring singing, dancing and crystal singing bowls.
Ye, who is also a musician, sang her own composition in front of a crowd of the city's trendsetters.
The show presented a couture collection by Ye's Studio Regal, a resort line by Ye and Masha Ma and an eyewear collection by Ye and Maggie Yao, as well as the Atelier Swarovski accessories collection by Ye.