Awards salute digital movers and shakers in fashion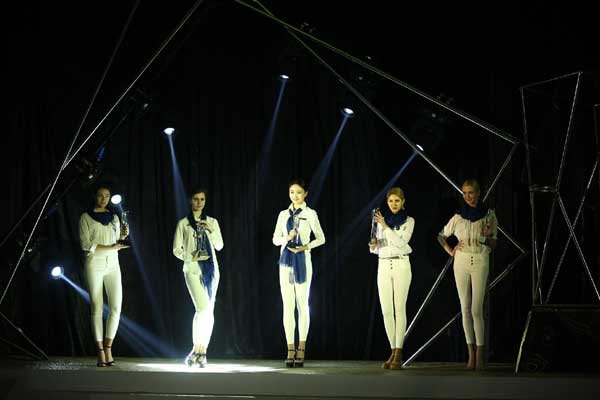 Models participate at the 2015 Digital Fashion Grand Ceremony. Photo provided to China Daily
The 2015 Digital Fashion Grand Ceremony recently held in Beijing presented a series of fashion awards to luxury couture brands as well as makers of jewelry, wristwatches and cosmetics.
Armani, Calvin Klein, Cartier, Chanel, Longines, Mamonde, Prada, and Chow Tai Fook won the awards due to their outstanding performances last year in the digital field.
Chen Man won the annual title of "the fashion photographer with the most attention". Ma Ke, who became a household name because President Xi Jinping's wife, Peng Liyuan, wore clothes designed by her during a state visit in 2013, was honored as the annual fashion designer who attracted the most attention.
In 2014, the number of searches for fashionable dresses, perfumes, cosmetics, wrist watches, jewelry and bags on search engine Baidu totaled more than 500 million. The peak seasons of searches for such fashion items are April and August, when the global fashion weeks are held. Data shows that the Internet has become fashion advisor of consumers, a growing number of whom are shifting from PC to mobile devices.
Hou Libin, executive vice-president of Baidu Institute of Marketing, says that thanks to the Internet, Chinese consumers have convenient access to international fashion trends. With the development of China's national power and the Internet, the world is paying attention to China's fashionable dresses and other industry trends.
Su Tong, CEO of Beijing-based Hylink Digital Solutions, delivered a keynote speech about the digital industry's influences on fashion industry and their development trends. He said the fashion industry makes connections with consumers via digital media because it has gradually become the main communication channel of the public.
Related:
Angelababy graces Paris Fashion Week