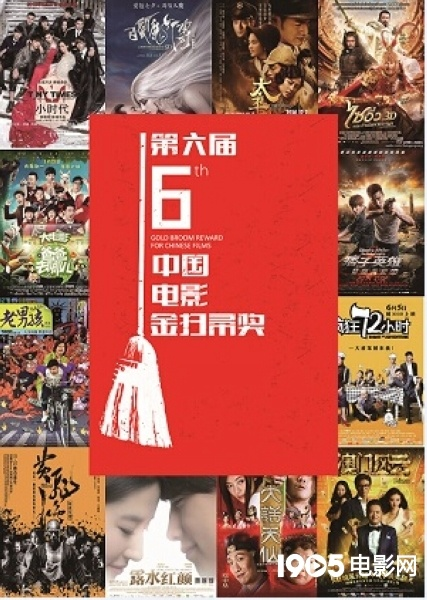 Poster for the 6th Gold Broom Awards [Photo/1905.com]
The 6th Gold Broom Awards, the Chinese equivalent of the Hollywood Razzies, started its one-month annual voting jamboree on January 15. The general public are now being given the chance to get their own back by choosing the worst movies of the year. So far, Guo Jingming, Deng Chao and Zhang Zhiliang are running neck-and-neck for the most disappointing director award.
According to this year's organizers, the contest is taking place amid "the most shameless, uncreative, and dreadful" time in China's film history.
"Some online users are complaining that they can hardly nominate just one as the very worst because they are all so abysmal," said Cheng Qingsong, who first launched the awards.
Based on an online voting count, Guo Jingming, the winner of last year's worst director, for his rom-com franchise Tiny Times, is ranked at the top yet again for the third film of the series. Guo is followed closely by Hong Kong director Zhang Zhiliang, for his 3D film White Haired Witch, and Deng Chao for his first directorial outing – The Breakup Guru.
As for the title of "most disappointing film" this year, the 3D fantasy film The Monkey King and the reality-TV-show-turned film Dad, Where Are We Going are both on the list. Also competing is Tiny Times, which has earned nominations not just for having the worst director, not even for having the worst actress too, but it scores a triple whammy by being nominated as worst film as well.
Last year, the contest attracted more than a million votes, up from a mere several thousand in 2009.
A number of big-name Chinese directors have been nominated as the worst overall in years past, including celebrated maestro Zhang Yimou in 2009, as well as onetime Hollywood director John Woo this year. Some of the country's most well-regarded actors and actresses have also been on the receiving end of the public's ire this year, including Golden Horse Award-winning Liu Ye.
The final winners for this year will be announced in the middle of February.
Related:
Guo Junli: A man who creates stories