The little dumpling shop that could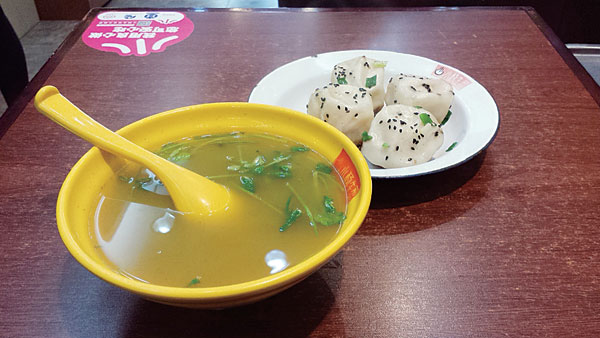 SHANGHAI STAPLE: The beef soup with mung bean noodles and fried dumplings are specialties at Yang's. [Photo by Li Xueqing/Shanghai Star]
Yang's Dumplings started small, but its delicious fare saw this humble eatery franchising across the country.
The story of Yang's Dumplings began on old Wujiang Road in 1994. It was a small restaurant, selling fried dumplings or shengjian and several kinds of soup. Despite the fact that the fried dumplings were cooked over a makeshift stove fashioned out of a gasoline can, the tiny restaurant soon gained popularity among Shanghai residents who had a special taste for fried dumplings.
There was always a long line outside Yang's Dumplings. It was quite normal for food lovers to wait in line for more than 30 minutes to buy the dumplings, and another 15 minutes to get a seat. Some just stood along the road to eat their meal.
In 2008, Wujiang Road underwent extensive changes and Yang's Dumplings moved into a mall on the west side of Wujiang Road. It also redesigned its logo. Today, Yang's Dumplings has 59 branches throughout Shanghai. You can also find them in other cities in the Yangtze Delta Region such as Hangzhou, Nanjing and Suzhou.
The branch I often go to is on Changli Road. It's small, just like the original one on Wujiang Road. And people still line up during peak times.
The taste of the dumplings is as good as it always has been, though the price has doubled throughout the years. The traditional pork dumplings are still the most popular. They are big and juicy with a very thin wrapper. While waiting in line, you can see the chefs in the kitchen making dumplings, frying them in big flat pans and coating them with white sesame seeds and chopped green onions.
The ones with black sesame seeds are stuffed with shrimp. The juice is the best part of shrimp dumplings as far as I'm concerned. It's absolutely delicious. You should take your time to savor it: carefully pick one dumpling up, slowly make an opening in its wrapper and drink all the juice before eating the rest of the dumpling.
Some people think fried dumplings with meat stuffing are too greasy. They should try shrimp dumplings. At Yang's Dumpling, don't forget to order a bowl of soup, such as the curry beef soup or beef soup with mung bean noodles and fried tofu. They are highly recommended by the dumpling lovers too.
IF YOU GO
Price Yang's Dumplings: 6 yuan/ four dumplings
Shrimp Dumplings: 16 yuan / four dumplings
Curry beef soup: 8 yuan
Beef soup with mung bean noodles and fried tofu: 10 yuan
Address Wujiang Road branch: 2F, 269 Wujiang Road
Changli Road branch: 218 Changli Road