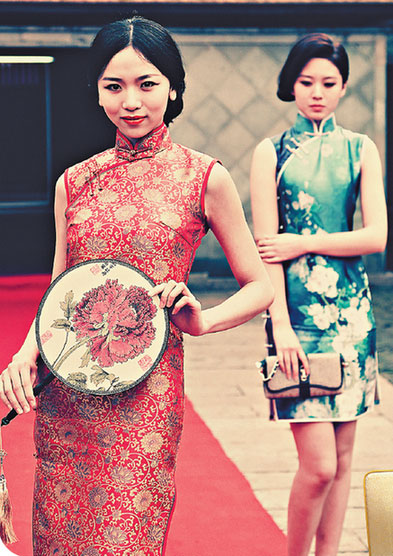 Models show cheongsams made of Songjin silk. [File photo]
There are days when silk trader Wu Jinhua barely has time to stop for a glass of water.
His company, Wujiang Dingsheng Silk Co.,Ltd., became part of a fashion phenomenon during the 2014 APEC conference in Beijing after prominent world leaders were spotted wearing a modern take on Chinese garb made out of his company's Songjin silk.
Since then, he has become one of the busiest occupants in his ancient hometown of Shengze.
"Sometimes, I even don't have time to enjoy a glass of drinking water," he says.
Wu, constantly engaged on two mobile phones which rarely stop ringing, says he's been overwhelmed with orders for the high-collared Chinese tunics plainly described as "APEC leader suits".
A strong influence on his success is the fact his company is one of the few mass producers of traditional Songjin silk.
With a history dating back to the Song Dynasty (960-1279), the textile, also known as Song brocade, was used by royal family members to make clothes or for framing calligraphy.
The practice, however, almost became extinguished three years ago after harsh competition from more modern chemically produced textiles plummeted demand for the complicated, dated production methods of Songjin silk.
Further stinting the industry, aging craftsman have had difficulty recruiting apprentices to take part in the UNESCO-heritage-listed silk making procedure, as most young adults make more money in chemical fiber companies.
In Wu's hometown of Shengze, about an hour drive from Shanghai, there are about 2,500 factories. Among them, only 10 can manufacture silk textile, among the silk producers, only Wu's factory is able to manufacture Songjin.