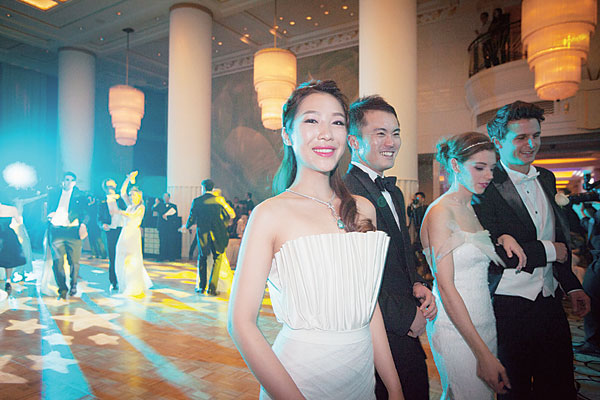 Dancing debs: The young debutantes take to the floor with their dates, known as "deb's delight" at the 2015 Shanghai International Debutante Ball. Gao Erqiang / Shanghai Star
It's one of the most glamorous events on the Shanghai social calendar, but today's debutantes are less likely to be searching for a husband as networking their way up the corporate ladder. Xu Junqian reports.
The backdrop is one of Shanghai's most luxurious hotels; the guests are well-dressed scions of the country's most powerful and wealthy families; and the white-gloved young women are expected to be the prototype of a modern Shanghai lady, or by the definition of the organizer: debutantes.
But instead of meeting a potential husband, which was the original purpose of the International Debutante Ball, the young women making their debut at the fourth Shanghai International Ball on Jan 10 in the grand lobby of the Shanghai Peninsula Hotel, appear to nurse more ambitious, feminist goals.
"The Shanghai debutante is modern, cosmopolitan and has an East-meet-West character. For me, it (the ball) is about coming out to the world as a strong and confident woman," says Polly Zhang, one of the 14 debutantes.
"This might be the only white-tie ball you can find in Shanghai or even China," says Tina Fu, the Hong Kong fashion designer who has been working as a stylist at the ball since it began in 2012.