A Western diplomat's 'phenomenal' China story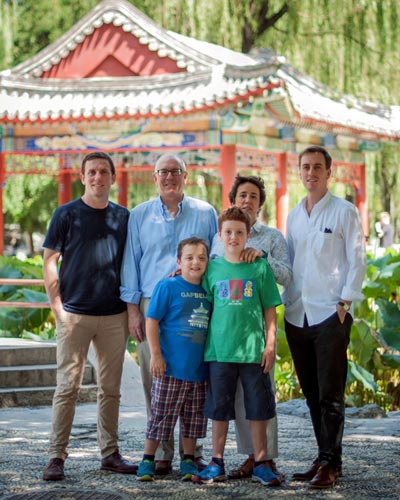 Carl Worker and his wife Connie Aldao-Worker and sons (from left) Simon, Nicholas, Oliver and Alex enjoy a day at Beijing's Ritan Park in 2013. Photo provided to China Daily
Carl Worker's close involvement with China stretches across three decades-almost as long as his diplomatic career.
The outgoing New Zealand ambassador to China joined his country's diplomatic corps after college in 1980, and spent the next year in Canberra, where he says, he first "dipped my toe in the world of Asian things" working in the Asian department.
After he returned to Wellington from Australia in 1980, he went for intensive Mandarin lessons, first at the London University's School of Oriental and African Studies, and then for another year at a language school in Hong Kong.
"What I discovered through the language training, even before I got to Beijing, was that I had been given the key to a marvelous world. The world of China and Chinese civilization and Chinese culture and the enormity of China's modern quest to bring itself up to be second to none in the world."
He came to Beijing for his first term in the country, as second secretary (political), from 1984 to 1986. He says that with only three New Zealand diplomats in Beijing at the time, his job involved much more work than the title suggested.
"It was absolutely fantastic," Worker says. "I used to do education, culture, science, politics-all people-to-people things."