Recipe: Chinese potato pancake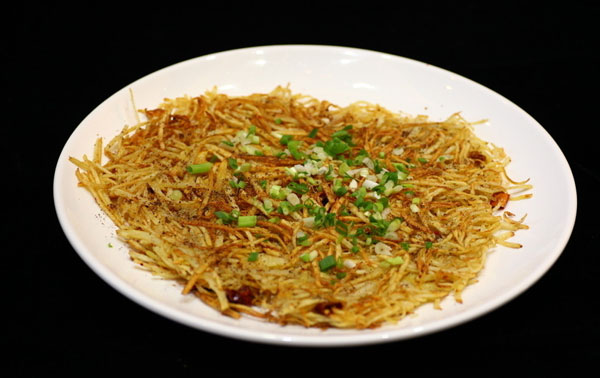 [Photo from Internet]
Ingredients:
2 middle size potatoes, shredded 1/2 cup of starch 
1/2 teaspoon salt or as needed 1 pinch of ground black pepper powder
1 teaspoon Chinese five spice powder
Around 1/2 tablespoon vegetable oil dips
1 tablespoon Hunan chopped chili sauce
1 teaspoon light soy sauce
1 tablespoon boiled water or stock
1/2 teaspoon sesame oil Instructions
Peel the potatoes and cut into thin shreds. You may use a shredding tool. Try to make them similar in size so the cooking time can be similar too.
In a large bowl, add salt, ground black pepper powder, five spice powder and starch.
Mix well and set aside for around 5 minutes.
Brush some oil in a pan, fry one side of the pancake over medium fire for around 1 to 2 minutes until shaped and slightly brown.
Turn it over and continue frying the second side. Then slow down your fire and turn over the pancake several times to fry the two sides until crispy and brown.
Serve directly or with the dips you want.
It can be matched with sweet chili sauce or tomato sauce.