Celebrities at 2015 Spring Festival Gala released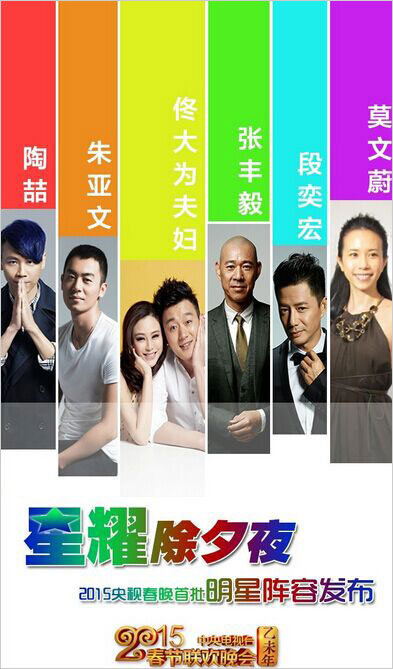 A partial listing of celebrities confirmed to perform at the 2015 Spring Festival Gala. [Photo/Agencies]
China Central Television has released a partial listing of celebrities confirmed to perform at the 2015 Spring Festival Gala.
Singers David Tao and Karen Mok will perform, and actors Zhang Fengyi, Zhu Yawen, Tong Dawei and his wife Guan Yue have also been confirmed as performing guests.
The broadcaster has also hinted that Nigermaidi Zechman, may be one of the hosts for this year's show.
Earlier this month six photos were posted on the official Sina Weibo of CCTV 3, of hosts who work for CCTV, along with a thread, asking the world to send in videos of them singingCan't Forget Tonight, the song that has always been sung at the end of each Spring Festival Gala since it started.
CCTV has broadcasted Spring Festival Galas on the eve of the lunar new year annually since 1984.
Related:
CCTV hints at possible hosts for Spring Festival Gala