Ariana Grande wins top American Music award, Green Day takes aim at Trump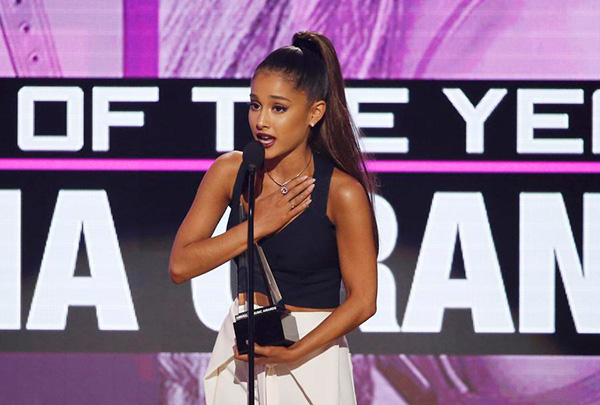 Ariana Grande accepts the award for artist of the year at the 2016 American Music Awards in Los Angeles, California, US, November 20, 2016. [Photo/Agencies]
Canadian rapper Drake won his first ever American Music Awards on Sunday, Ariana Grande was named artist of the year, and punk band Green Day took aim at newly-elected US President Donald Trump.
"No Trump, no KKK, no fascist USA," sang Green Day, performing their controversial anti-gun violence single Bang Bang on the live show and re-writing some of the lyrics.
It was the most overt reference to the Nov 8 US presidential elections at the three-hour awards show where the focus was otherwise mostly on music.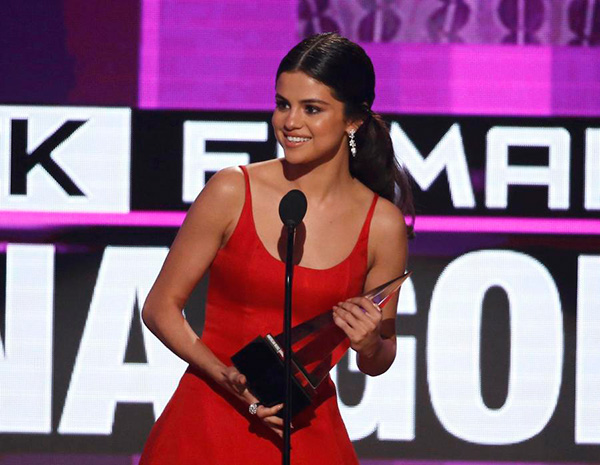 Selena Gomez accepts the award for favorite female pop/rock artist at the 2016 American Music Awards in Los Angeles, California, US, November 20, 2016. [Photo/Agencies]
Pop singer Selena Gomez, 24, who surprised fans by making her first major public appearance since cutting short her world tour in August to deal with panic attacks and depression, won the best pop/rock female artist award.
In an emotional speech, Gomez thanked her fans for their loyalty and explained why she felt the need to take a break.
"Most of you know a lot of my life whether I like it or not. I had to stop. I had everything, but I was absolutely broken," said Gomez, who is also known for her on and off again romance with Justin Bieber for the past five years.