Maggie Cheung releases new single 'Look In My Eyes'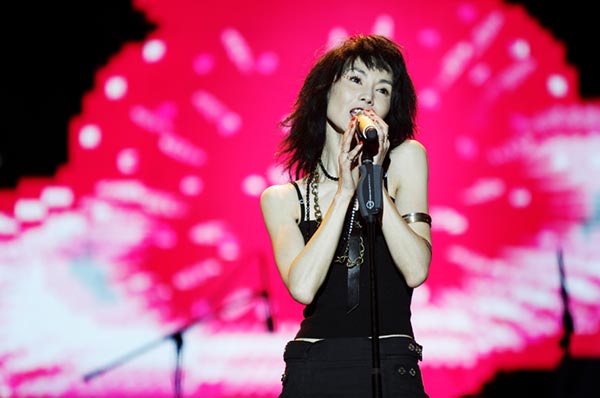 Maggie Cheung performs at Strawberry Music Festival in 2014. [Photo provided to China Daily]
Hong Kong award-winning actress Maggie Cheung is adding another line to her already-impressive resume with her latest identity as a singer-songwriter.
She has just released her first single, Look in My Eyes, via Modernsky, the country's largest indie record company.
With London-based music producer and mixing engineer Chris Brown, it makes for a Trip-hop, punk and electronic track.
Brown has worked with some of the biggest names in the business, most notably Radiohead, Muse and The Beatles Anthologies with Sir George Martin.
For Cheung, 52, who was raised in UK and Hong Kong, her early music influence from UK bands led her to Brown.
"I've been an actress for many years, but I never stop listening to music. I love to find different types of music and I hope I can share my feelings with fans through my music," said Cheung in a statement.
With more than 70 films to her credit over the past three decades, Cheung has given her first foray into music in the movie Clean in 2004, as part of her portrayal of a recovering drug addict and aspiring singer. She performed songs written by David Roback of Mazzy Star and Dean Wareham of Dean & Britta. The role in Clean also enabled her to become the first Asian actress to win a prize at the Cannes Film Festival.
In 2012, Cheung sang a song she wrote herself, Visionary Heart, at an event in Beijing.
In 2014, she performed at the Strawberry Music Festival for the first time in Beijing and Shanghai. The same year, Modernsky, which inaugurated Strawberry Music Festival in Beijing in 2009, announced its record deal with the actress.
"She is fully prepared as a singer-songwriter. She's not just playing for fun," said Shen Lihui, founder and CEO of Modernsky. "She likes music with a little bit darkness and electronic elements, which match well with her voice. She is full of imagination about her music."
Related:
Metallica to perform in Beijing in 2017