Most luxurious antique bed dazzles in Chongqing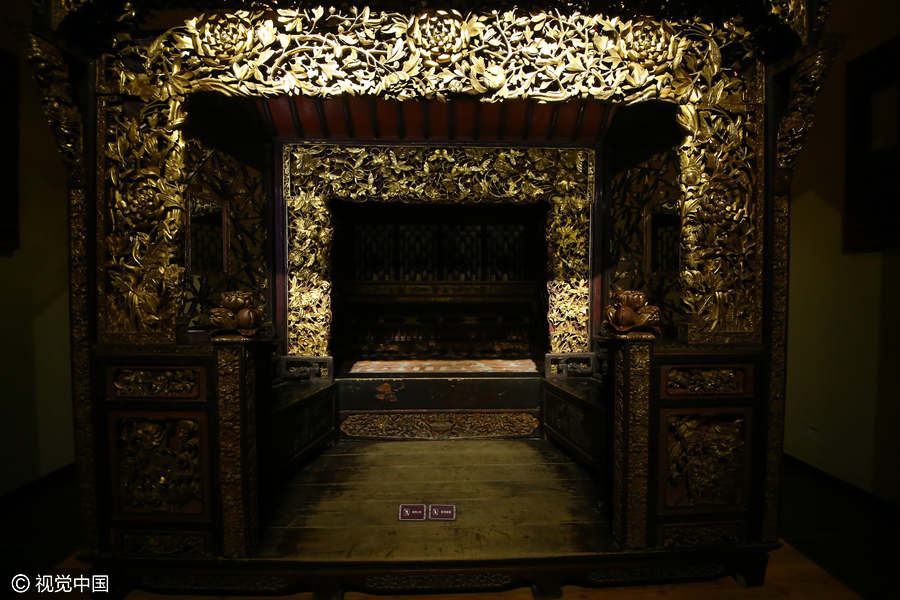 A view of the luxury antique bed exhibited at the Bayu Ancient Bed Museum in Yubei district, Chongqing municipality, Nov 17, 2016. [Photo/VCG]
A luxury, golden antique bed claimed as the "No 1 bed in the world" is the most precious treasure in the Bayu Ancient Bed Museum in Chongqing municipality.
The bed, 2.9 meters high and 2.8 meters wide, is a splendid and magnificent piece, made with glittering gold all over.
Looking from inside, the whole bed has five levels and the eaves boards at each level are engraved with plum blossoms, orchids, bamboo and chrysanthemum patterns, as well as images of a bat, butterfly, peony, peach and pomegranate, symbolizing auspiciousness.
The "No 1 bed in the world" belonged to a wealthy family surnamed Dai during the reign of Emperor Tongzhi in the Qing Dynasty (1644-1911) and was part of a dowry. The whole bed is decorated with more than 200 grams of gold, and highly-paid craftsmen were hired to make the bed, which took three years to finish.