China successfully completes longest-ever manned space mission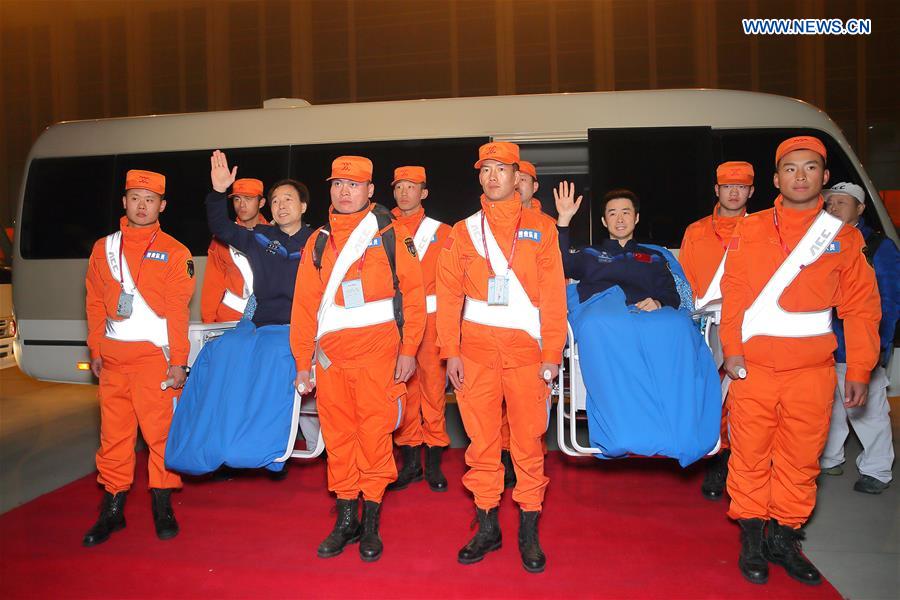 Astronauts Jing Haipeng (L) and Chen Dong arrive in Beijing, capital of China, Nov 18, 2016.[Photo/Xinhua]
BEIJING - Two astronauts who completed China's longest-ever manned space mission returned to Earth safely Friday afternoon.
Zhang Youxia, commander-in-chief of China's manned space program, announced that the Tiangong-2 and Shenzhou-11 manned flight mission, which lasted over a month, was a "complete success."
Zhang Gaoli, vice premier and a member of the Standing Committee of the Political Bureau of the Communist Party of China (CPC) Central Committee, delivered a congratulatory message from the CPC Central Committee, the State Council and the Central Military Commission at the command center of China's manned space program in Beijing.
The completion of the Tiangong-2 and Shenzhou-11 mission "marked a major breakthrough" in China's manned space program, according to the congratulatory message.
It said that under the leadership of the CPC Central Committee with Comrade Xi Jinping as the core, people of China's aerospace industry have implemented the innovation-driven development and civil-military integration strategies.
Their efforts to forge ahead and overcome challenges, as well as their collaboration and sacrifice, demonstrate confidence in the path, theory, system and culture of socialism with Chinese characteristics, it said.
Shenzhou-11's reentry module separated from the spacecraft's orbiting capsule at 1:11 p.m. Friday Beijing Time, and then separated from the propelling capsule, ending the 33-day mission and embarking on the journey back to Earth.
The reentry module landed safely at the expected site in central Inner Mongolia Autonomous Region at about 1:59 p.m.
The ground search team reached the landing site immediately, and astronauts Jing Haipeng and Chen Dong opened the capsule's hatch by themselves.
The two astronauts were reported by the ground team to be in good condition.
The two astronauts arrived in Beijing Friday evening and will be quarantined and undergo medical check-ups.
The mission of Shenzhou-11 marked China's sixth manned space flight.