China successfully completes longest-ever manned space mission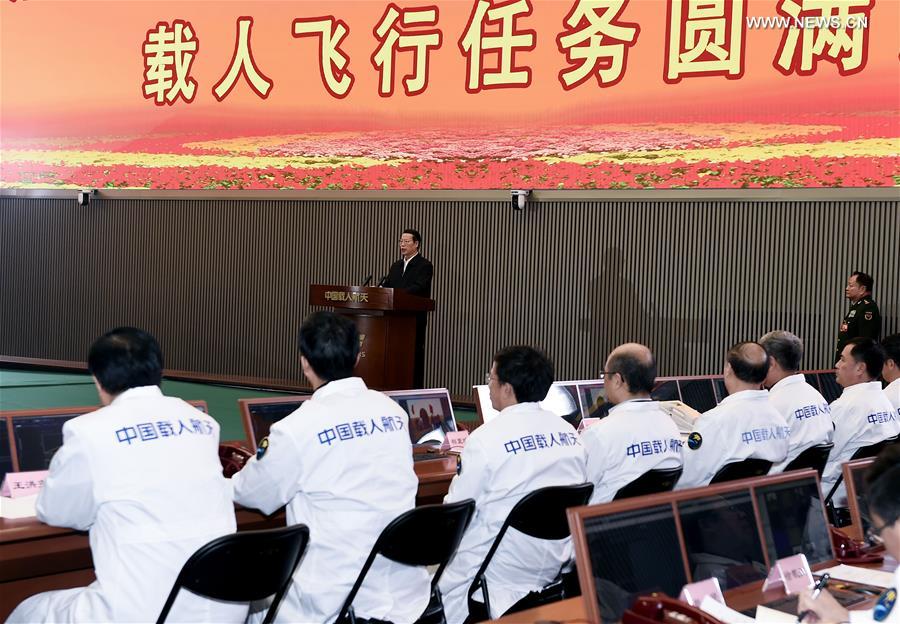 Zhang Gaoli, vice premier and a member of the Standing Committee of the Political Bureau of the Communist Party of China (CPC) Central Committee, delivers a congratulatory note from the CPC Central Committee, the State Council and the Central Military Commission at the command center of China's manned space program in Beijing, Nov 18, 2016.[Photo/Xinhua]
After its launch on Oct. 17, the spacecraft docked two days later with China's first space lab, Tiangong-2, where the two astronauts lived for 30 days.
The mission transported personnel and materials between Earth and Tiangong-2, and tested meeting, docking and return processes.
It conducted aerospace medical experiments, space science experiments and in-orbit maintenance.
The two astronauts also conducted three experiments designed by middle school students from the Hong Kong Special Administrative Region, including raising silkworms in space.
It was the third space mission for 50-year-old veteran Jing Haipeng, the commander of the crew, who also participated in the Shenzhou-7 and Shenzhou-9 missions.
It was the first space mission for Chen Dong, 38.
The mission is a key step toward China's aim of building a permanent manned space station.
The core module of China's space station is expected to be launched around 2018, and the space station will enter into full service around 2022, with an initial designed life of more than 10 years.
It will accommodate three to six astronauts, who will stay in space up to one year.
Tiangong-2 will remain operative in orbit following Shenzhou-11's return to Earth and will wait to dock with Tianzhou-1, China's first cargo spacecraft. Tianzhou-1 will be launched in the first half of 2017 to verify refueling technology, a key technology for any space station.
"The success of this mission demonstrates that China has acquired the capability to support long stays in space by astronauts," Huang Weifen, a deputy chief designer with the Astronaut Center of China, announced at a press conference Friday afternoon.
Some new key technologies to support long-term manned space missions were tested in orbit, Huang said.
For instance, a running exercise device -- crucial for long-term space lab missions -- was tested and will help guide future research and development.
Remote medical consultation system linking the space lab and space center on earth, medical ultrasound, and plant cultivation were also tested during the mission. Growing plants has proven to be a good and effective means for psychological adjustment, she added.
Moreover, the excellent performance by the astronauts verified the efficacy of China's astronaut recruitment and training systems, said Huang.
Testing of the technology is crucial to supporting the health, life and work of astronauts in future space missions, and will help with the future design of space lab interfaces, astronaut tasks and in-orbit operations, she said.