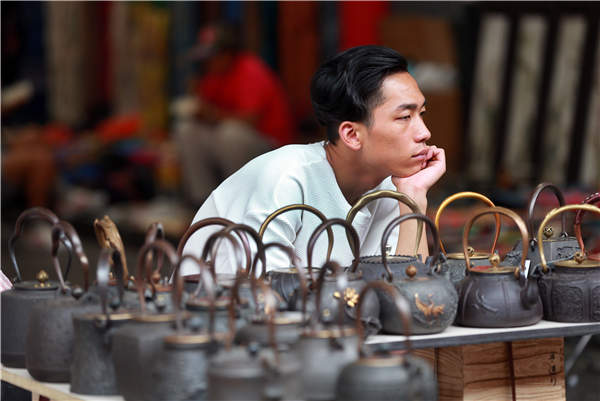 A customerless vendor is in a daze. [Photo by Zou Hong/China Daily]
As an auctioneer-cum-researcher, Ji Tao not only witnessed but participated as China's art and antiques market reveled in an unprecedented upsurge in the spring of 2011. "There were a lot of people and a lot of carousing. Anything that appeared at auction sold quickly, sometimes at jaw-dropping prices," he recalled.
The high was followed by a low as the bubble burst in the autumn of the same year. Five years later dealers are still waiting for it to rebound.
"The previous spell of gloom arrived in about 2006 and lasted for three years before things started to pick up in the spring of 2009. Now, five years have passed (since the start of the last market decline), and we are still hoping," Ji said.
He blamed an insane buying fever before the downturn for undermining the market. "Wealth accumulated in other sectors of the economy was flowing into the art and antiques market, fueling a misguided enthusiasm that ultimately boded ill for the future," he said.
However, not everyone was hit equally hard, and some people escaped relatively unscathed, according to Ji.
"They include the people who bought the 'cream', those who collected at the very top of the antiques-trading pyramid," he said. "The value and rarity of those precious items means they will easily weather the current market storm, only to become more sought-after in years to come."
This is where Ji believes the biggest misconceptions about collecting lie among nonprofessionals. "It would be naïve for anyone to equate buying any old antique with collecting and, therefore, investing. Some things may be genuinely old; for example, a little silver hairpin from 100 years ago, but there are so many of them that they have ceased to have any real value as collectible pieces," he said. "Like any other area of investment, only wealth can produce wealth. It's perfectly OK to buy a little silver hairpin for personal appreciation, but don't have any illusions when it comes to returns."
Yang Zhenbin, from the State-owned Suzhou Municipal Antique Store, believes the market downturn has had a sifting effect, which will result in credible dealers eventually surfacing as winners. "Like all State-owned antique stores with a long history, we ensure the authenticity of our merchandise-something that discerning clients definitely appreciate," he said, referring to the crowds that turned up at an antiques fair the store organized in the city on June 30 and July 1.
The Suzhou store also offers free connoisseur consultations for members of the public every month or so, partly to maintain its reputation as an authoritative establishment and partly to increase sales. It also provides training courses for industry insiders and dedicated lovers of antiques.
Wang Ge, an antiques dealer who recently opened a store in Beijing, said the overheated market needed to have a metaphorical bucket of ice poured over it: "People's sense could only be restored once they started to lose money. I'm not saying that people should stop buying-just try to buy things you love so much that selling is not a priority."
Related:
Market meltdown leaves antiques dealers on the shelf