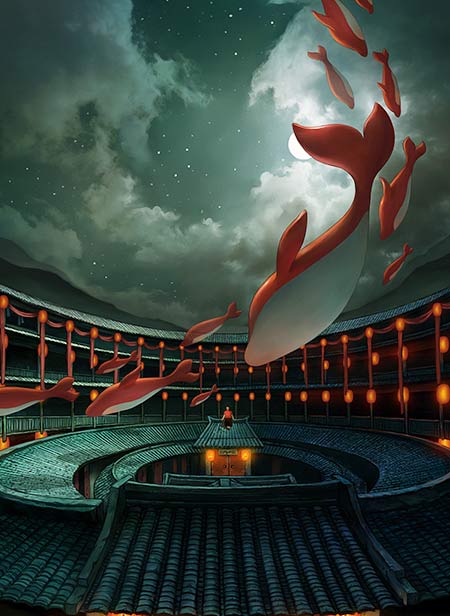 Big Fish & Begonia has raked in 500 million yuan ($75 million) in box-office takings in two weeks despite polarized reviews. Photos provided to China Daily
Big Fish & Begonia, directed by two Tsinghua University dropouts, has got the internet talking while it chases the box-office bucks, Xu Fan reports.
Even for those with little interest in cinema, ignoring the animation hit Big Fish & Begonia will be tough. Two weeks since its premiere on July 8, the film directed by two Tsinghua University dropouts is still dominating Chinese social media.
Latest figures on Sina Weibo, China's largest Twitter-like service, show that posts related to the film have generated more than 3 billion clicks, and more than 2 million reviews.
Beating Hollywood blockbuster The Legend of Tarzan, which was released in mainland theaters on Tuesday, and powerful domestic rivals such as Cold War II, it has emerged as the most-discussed film on Weibo. The public recognition has also resulted in handsome box-office returns.
While most Chinese-language movies are struggling in a market that has been lackluster of late, the 30-million-yuan ($4.48 million) feature had raked in around 500 million yuan by Wednesday, according to the live box-office tracker Cbooo.cn.
Despite drawing praise at some international festivals, Big Fish & Begonia is receiving a polarized audience at home.
To supporters, the long-awaited feature is an unprecedented creation for the values it espouses and its breathtaking landscapes. But its critics complain that a romance triangle and flat dialogues ruin the storyline.
Deeply rooted in Chinese mythology, the film is set in a wonderland that manages the human world. The fictional world is designed like tulou, a fortresslike residence in East China's Fujian province. The film opens when a lot of whales are seen slowly swimming in the sea. The narrator says the human soul is actually a fish whose journey across the ocean shows the different stages of life.