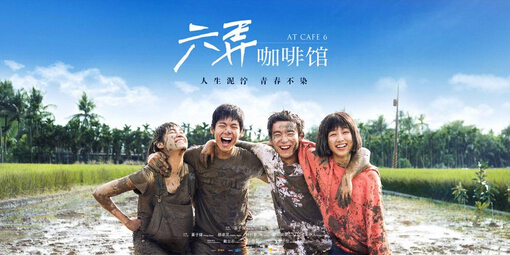 Poster of "At Cafe 6". [Photo/Mtime]
Taiwan has found a niche for itself in coming-of-age films.
In recent years, Taiwan has produced both critically acclaimed and box office mega hits in the genre thus making it popular. One of the newest releaaes, "At Cafe 6", is hoping to replicate their success. 
The movie, adapted from the namesake novel by writer Neal Wu, marks his first directorial debut.
Set in Taiwan in the 1990s, the story is about a teenage boy in high school, who, with the help of his best friend, is pursuing the cute girl next door. 
Dong Zijian, leading actor of the film, believes that "At Cafe 6" offers something different from the previous films in the same genre.
"'At Cafe 6' looks deeper at life. After you watch it, it's not like 'oh why didn't I pursue that girl?' But rather like, 'how do I go forward from here? How did I survive the path before me? How should we live our lives?' I think it brings up more questions along those lines. So it will allow you to explore something deeper within."
"At Cafe 6" hit theaters in Taiwan on July 14 and will premiere in the Chinese mainland on July 29.
Related:
Movie event seeks to bring Chinese, foreign film talents together
Twelve years-of animated production, good job or an embarrassment?