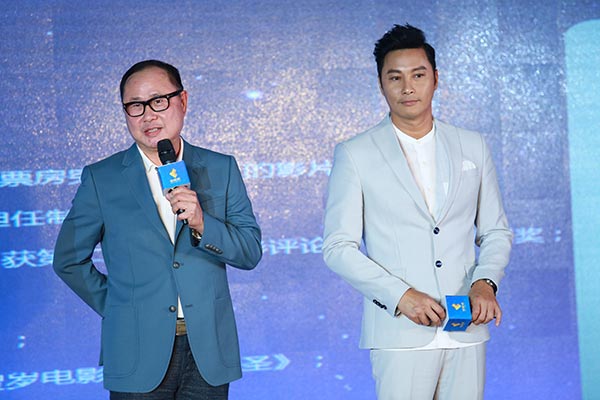 Hong Kong director Jeffrey Lau (left) alongside singer-actor Patrick Tam at the Beijing event. [Photo provided to China Daily]
A upcoming movie event aims to bring young talents from China and abroad together.
G.O. Movie Season seeks to enhance cultural exchanges between China and members of the Association of Southeast Asian Nations in Nanning, in South China's Guangxi Zhuang autonomous region, later this year.
Speaking at a news conference in Beijing recently, Jing Jian, the chairman of the event's organizing committee, said the event would bring together filmmakers and industry experts from North America, Malaysia, Indonesia, Thailand, the Philippines and Singapore.
The event will have six sections, including a competition and a special screening of films by young directors.
Meanwhile, despite China becoming the world's second-largest movie market, many young filmmakers are still struggling to convince investors to fund them, said Jing.
He said that the event hoped to provide an international platform for newbies to showcase their talent and their productions.
Most of the newcomers who will be at the event work on online features, which normally have low budgets and lesser-known casts.
At the press conference, Jeffrey Lau, now a renowned Hong Kong director, recalled his early years with Wong Kai-wai, the award-winning art-house filmmaker. "When we were young, it was very inspiring to receive support from established filmmakers," he said.
"As someone who has experienced two waves in Hong Kong cinema during the past 30 years, I believe that creativity and the power to innovate belong to the youth."
Patrick Tam, a veteran Hong Kong singer-actor, urged the young talent not to be in a hurry to seek fame and profit, but focus on creating quality products.
Related:
Twelve years-of animated production, good job or an embarrassment?