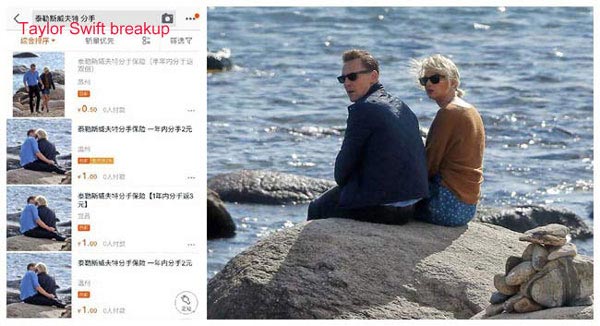 Screenshot of "Taylor Swift breakup insurance" items on Taobao. [Photo/Agencies]
Still betting on the #Hiddleswift relationship? Wake up fans!
Recently, an item billed as "breakup insurance" for the relationship between Taylor Swift and Tom Hiddleston was removed from Chinese e-commerce site Taobao on suspicion of illegal fund collection.
The item, which was allegedly selling well before its removal, cost only 1 yuan ($0.15) and promised to double customers' bet money if Swift broke up with Hiddleston within one year.
Taobao executives suspect that it could be a case of fraudulent fundraising. The item has been removed from Taobao, along with several other suspicious products.
No results can be found on Taobao for "Hiddleswift breakup insurance" now.
Related:
Taylor Swift is world's highest-paid celebrity: Forbes Celeb 100