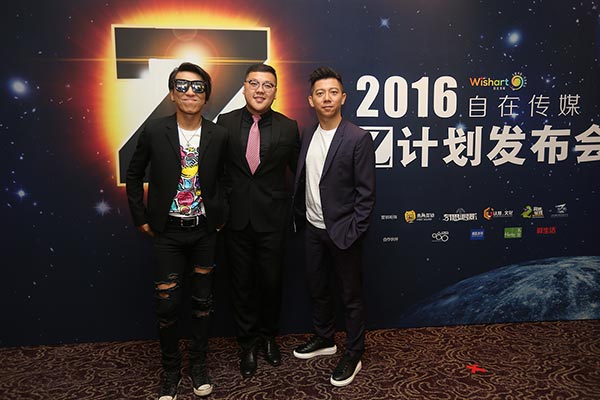 Chen Yufan (left), Wishart founder Zhu Weijie (center) and Hu Haiquan. [Photo provided to China Daily]
Echoing other Chinese celebrities' rising eagerness to jump into business circles, the singing rock duo Chen Yufan and Hu Haiquan have become the latest to follow the trend.
They announced on July 8 that they are shareholders of a recently listed film marketing company Wishart.
Founded by three former journalists in 2011, the Beijing-based Wishart has operated the marketing programs for around 200 films, including the commercial hits Jian Bing Man and Goodbye Mr Loser.
The duo say that they invested in the company because they believe China's movie market has a huge potential.
The firm's celebrity shareholders also include Dong Chengpeng, the director and titular actor of Jian Bing Man, a 50-million-yuan ($7.47 million) comedy which surprisingly raked in 1.16-billion-yuan at the box office last year.
On the same day it announced it was going public, Wishart revealed its upcoming projects. The list boasts At Cafe 6, adapted by the namesake Taiwan best-selling novel, and Mr Rabbit, the directorial debut of Taiwan star host Jacky Wu.
Related:
Actress gets more security at new film's event