Actor Li tells UN event Beijing's air quality is getting better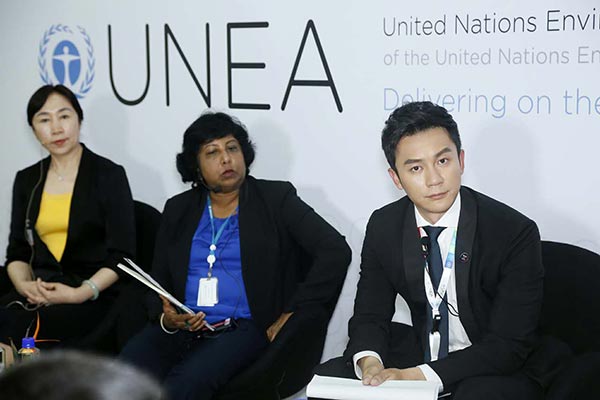 Li Chen (right) attended the second United Nations Environmental Assembly on May 25. [Photo provided to China Daily]
The United Nations Environmental Assembly in Nairobi, Kenya, has been told that Beijing's air quality is seeing an improvement.
Speaking at the event, which ran over May 23-27, Chinese actor Li Chen, called on people to take a bigger role in the activities to cut air pollution.
Li, who was named environment protection ambassador by the Beijing authorities for the UN event, also urged people to acquire scientific knowledge about the environment and look at environment protection as part of their daily lives.
Speaking to the assembly on Beijing's environment, Li said: "When I was a kid, Beijing had blue skies, bright sunshine and clean water… But with the country's unprecedented development during the past 30 years, Beijing is seeing problems with its air quality. PM 2.5 is now the focus for locals."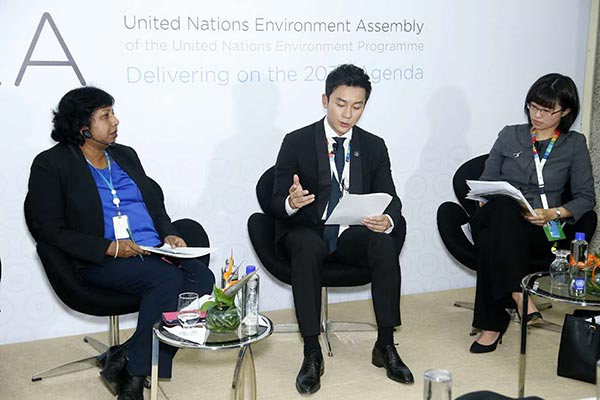 Li Chen (center) attended the second United Nations Environmental Assembly on May 25. [Photo provided to China Daily]
Li, who has launched a charity project called Run For Blue to raise funds for environment protection programs, said that around 70 percent of the money raised will be used to support China's young inventors and their environmentally-friendly products, and the remaining 30 percent will be spent on projects of the United Nations Environment Program to curb air pollution
Li also promised to use his influence as a celebrity to urge more people to adopt a green lifestyle.
Li was recently in the news for his role in the reality TV show Running Man.
Related: