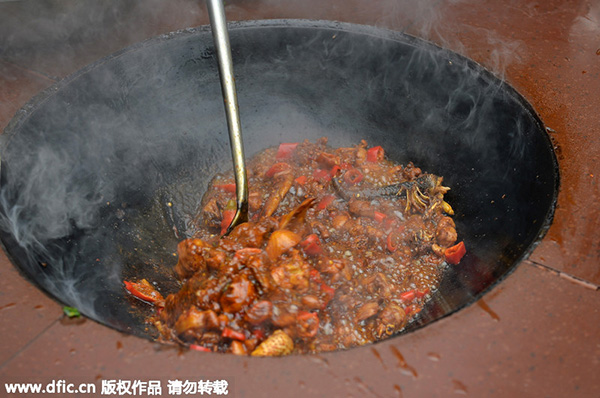 A chicken dish cooked from using firewood is seen in Shuangliu county, Southwest China's Sichuan province in this Oct 7, 2014 file photo. [Photo/IC]
Authorities in Kunming, Yunnan province, have banned restaurants from using firewood to cook a popular chicken dish, in a bid to reduce the air pollution.
The Yunnan Information Daily reported on Thursday that the environment protection bureau of Kunming has stopped approving new restaurants that serve Chaihuoji, or firewood chicken, and asked the existing ones to replace firewood with clean fuel.
The city follows on the heels of Chongqing in its attempt to curb smog by asking restaurants to change the way they cook some of the traditional dishes, though it remains to be seen if the move can reduce the air pollution level.
Earlier this year, Chongqing said no to smoked bacon, open-air barbecue and chicken cooked by burning firewood.
In Kunming, dozens of firewood chicken restaurants that opened in the past six months will need to switch to the environment-friendly charcoal, though many of them said they were not aware of the new rule.
During the lunchtime, the Information Daily saw a firewood chicken restaurant near Heilongtan packed with diners, and residents living far away from the restaurant could smell the smoke emanating from it.
One of the workers at the restaurant was quoted as saying that 1.5 to 2.5 kg firewood is usually needed to cook 2.5 kg chicken.
The owner, surnamed Lai, said many diners come back for its Chaihuoji, which is cooked in an authentic way by burning the firewood.
In the city, there are some restaurants that have switched to clean fuels like charcoal and gas.
The regional environment authorities said that law enforcers will carry out surprise inspections to curb use of harmful fuel while encouraging the public to report any breach in rules. The violators will be fined and requested to make changes.
The move taken in Kunming has triggered controversy online.
A blogger said on Sina Weibo that if firewood chicken is banned then Beijing should also stopping cooking the renowned roasted duck by burning fruitwood. "There should not be double standards in the country," the blogger added.
Another Web user, called Fengzhimoduan, said the move, in an unintended way, can curb the unhealthy competition in Kunming's food and beverage industry. When some dish becomes popular all restaurants start copying it, and that later on forces many to close shop, said Fengzhimoduan.
"The ban is a good thing that way," the blogger added.