Gasping for getaways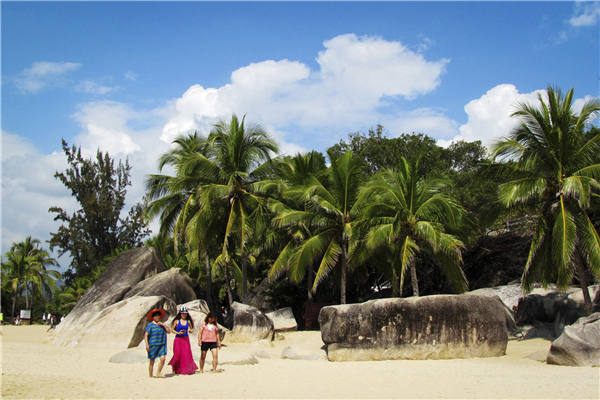 Sanya in the island province of Hainan tops the list of smog-escape routes since it offers blue skies, blue seas and warm weather. Bao Xinguo/China Daily
Travel agencies are pitching popular 'smog-escape routes' as pollution propels Chinese to places with clean skies. Yang Feiyue and Erik Nilsson report.
Chinese travel itineraries are increasingly written by the sky.
More than ever, "getaway" refers to escapes not only from the office but also from acrid air.
Urbanites are heading overseas for "breathers", in every sense of the term.
Travel titans caught a whiff of the trend in late December, soon after Beijing issued its first and then second red smog alerts. The country's largest online travel agency, Ctrip, for instance, has since started pitching "smog-escape routes"-with great success.
"Our app and website searches for destinations rise in pace with smog levels in users' respective cities," says Yan Xin, publicity manager of Ctrip.
More than 60 percent of Chinese cities reported high air pollution around Christmas. This gave oomph to overseas escapes' allure during the New Year holiday's three-day weekend, industry insiders say.
"Many customers moved their departure dates forward or switched from domestic to international destinations to escape the severe air pollution people expected around the New Year and the Spring Festival holiday (Feb 7-13)," Yan says.
Beijinger Zhang Guangqi took two extra days off around the New Year to visit Okinawa with his friend.
"It was a spontaneous decision," Zhang says.
"I didn't have any specific plans for my visit. I just wanted to escape the air."
Still, smog caught up to many who'd escaped over the New Year as they returned-or tried to.