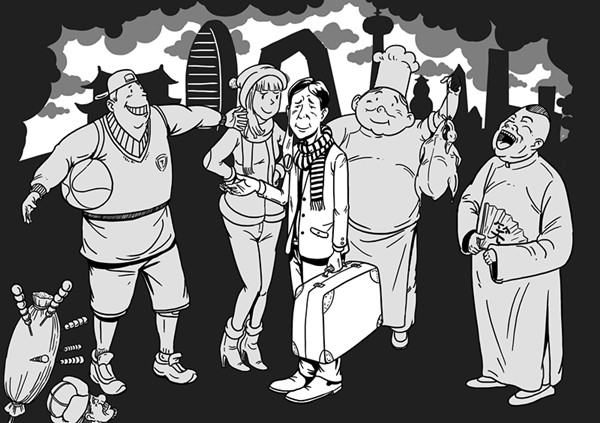 [Picture by Li Feng/ China Daily]
From the pall of pollution, issues of survival and lifestyle arise.
"Get out of this place as fast as you can." The idea flashed through my mind as I opened the curtains of my bedroom on Dec 1. It was 8 am, the sky was hazy, and just by opening the window I knew there was something in the air - and it was not the smell of roses.
On my walk to work I wore a top-of-the-range facemark, yet the chemicals in the air seeped through every pore. The only distraction to this was the lurid show on Beijing's Fourth Ring Road: flashing red and yellow lights filtered through the smog.
This was the 2015 edition of what has become a grimy annual ritual over the past 10 years or so: the first big day of pollution in Beijing for the winter. And this day it seemed the smog demons were determined to outdo themselves, turning in readings that put the city on maximum pollution alert for three straight days.
Of course this was the talk of the town - and it seems, even the planet - for a few days, and among some locals talk turned to getting out of the city - permanently.
Until this year, though I had lived through smogs thick and thin in Beijing, it had never occurred to me that I could abandon the city in which I was born and raised. But such has been the talk among many of my friends over the past few weeks.
Often when people start talking of "the good old days", as my friends did, golden light is cast on events that hardly deserve it. However, there is no doubt that months of clear blue winter skies in Beijing until about 10 years ago are nothing but fact.
Those who were advocating retreat offered two reasons: the air pollution and the fact that there are too many people. Those arguing to the contrary were able to marshal a few more arguments.
Still, the souls who wanted to remain true to Beijing seemed to concede that their faithfulness comes at a price. Essentially their argument was this: "We cannot leave because it's our home. Our families and friends are here, and there is no place better than this. But here we lack the basic condition for living: clean air."
One friend, a native of Chongqing who has lived in Beijing since graduating from university nearly 20 years ago, said: "I think of leaving Beijing whenever the smog comes. But ultimately I can't. I've become too connected with it."
Compared with many people, she has a great degree of choice in where she lives. She was married and divorced in the city and bought an apartment and now works as a freelance reporter. Being a freelancer means she need not be tied to a certain place, and yet she chooses to stay.
"You can have more fun in Beijing. It's hard to live back home without my social connections, particularly my friends here. The rich cultural heritage of the city has always inspired me in my work."
When Beijing does have blue skies, she says, she heads to the Summer Palace or the Temple of Heaven for a brisk walk, and these outings among the historical sites reinforce her affection for the ancient capital.