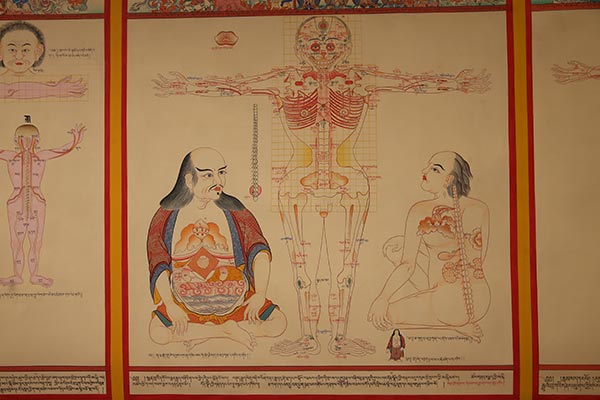 Thangka paintings on display in the National Museum of China shed light on the traditional Tibetan medicine. [Photo by Jiang Dong/China Daily]
Eighty thangka paintings that illustrate the Four Medical Tantras are on permanent display at Beijing's National Museum of China.
The paintings are based on Tibetan medicine featured in 156 chapters of the Four Medical Tantras, a tome by Yuthok Yonten Gonpo who developed Tibetan medicine 1,300 years ago. They provide an easy-to-understand guide and feature sophisticated drawings.
The paintings were done by Niangben, an exponent of Regong art, and 30 of his students over three years.
Regong art, which originated in Qinghai province, boasts of a rich and long tradition in Tibetan Buddhism, and is listed as state-level intangible cultural heritage.
Niangben, 45, who began learning Regong thangka art at 12, has trained nearly 1,500 students in the discipline over the years.
He donated the medical thangka paintings to the museum in the hope that more people can learn about Tibetan medicine.
Related:
11th Panchen Lama attends religion activity in China's Tibet