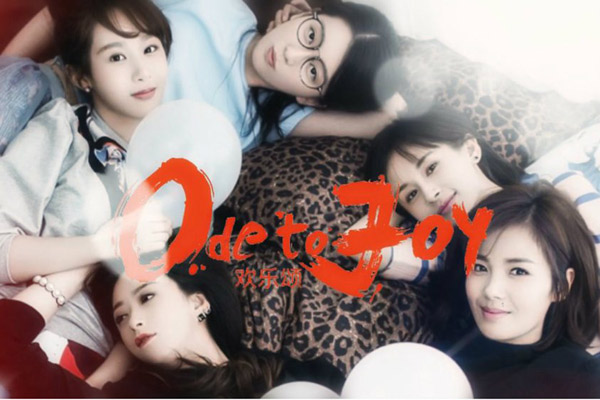 A poster of the TV series Ode to Joy [File photo]
"I get really excited about the Ode to Joy episodes and it's a truly realistic and moving TV series," a Vietnamese fan of the series said.
Ode to Joy tells of a friendship among five young women who live on the same floor in an apartment building also called "Ode to Joy" in East China's Shanghai municipality.
The five main characters have different backgrounds including their age, social status, personality and careers among other differences. Their relationships were initially rocky, in the earlier episodes, but eventually they became good neighbors and friends.
Despite the main focus being only on their daily lives, Ode to Joy turns out to be more attractive to Vietnamese audience than expected thanks to its reality and familiarity.
"While watching stories of family, study, work and love lives of the five young women, viewers can see themselves in the characters during some part of their lives. The five girls have their respective strengths and weaknesses. All characters are featured clearly and realistically. While following colorful stories about the five women, we can learn lesson about life, work, study and love," said Vu Quynh Mai, 28, a marketing officer in a book company in Hanoi.
"In addition to attractive content, the program seduces audience by well-shot scenes, fashionable office style, as well as great acting by talented and beautiful actors and actresses," said Mai, adding that the dialogues on love, life and work in the episodes, always keep the audiences surprised and moved.
"With gentle rhythm, relatable content, as well as funny incidents, Ode to Joy is a TV series which is easy to follow and suitable to viewers of all ages," Nguyen Thi Van, 61, living in a Hanoi suburb, told Xinhua.
"My daughter, who is a fan of this series, introduced it to me. The story was so good that I stayed up late to watch it. I don't remember the last time I had to wait to watch a TV series since Ode to Joy," the middle-aged woman said, adding that she would always chat with her daughter about which characters they like best, even after the first part of the episodes ended.
"Among the five girls, I like Fan Shengmei best. Life is so tough for her to earn a living in a crowded and competitive city like Shanghai, as well as to provide money for her parents and brother. Fan Shengmei is the big sister of room 2202. Everyone calls her "Fan jie," which means "Sister Fan," and asks her for advice. She also treats others well, being supportive to them while they have troubles," Van said, adding that she is looking forward to the second part of the episodes, which is said to start in September.